'Mental baggage' catching up with Limerick - Tyrrell
May 22, 2023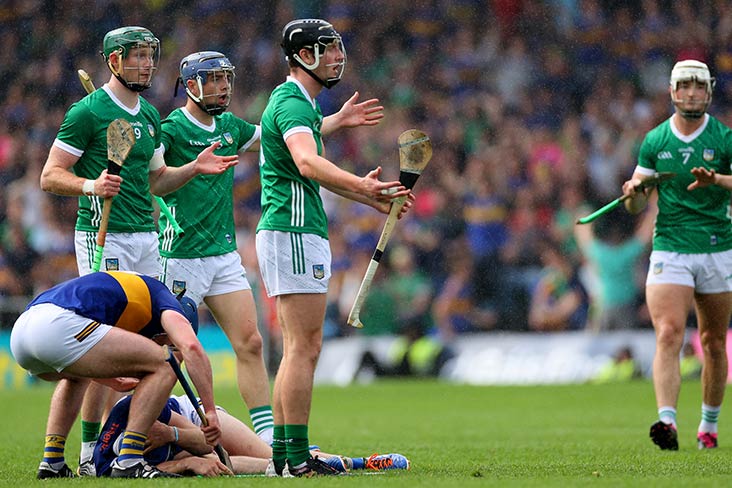 Limerick players react as Tipperary are award a free. ©INPHO/James Crombie.
Jackie Tyrrell feels Limerick's constant quest for excellence is starting to take its toll.
The four-in-a-row chasing All-Ireland champions haven't looked themselves in this year's Munster SHC and need to beat Cork next weekend and hope that Tipperary lose to Waterford - who are already knocked out - if they're to reach another provincial final.
Tyrrell, who knows all about the pressures of being the team to beat from his own playing days with Kilkenny, noted on 'The Sunday Game': "I'd say they're a bit confused at the minute because there's definitely signs of physical and mental fatigue with this group of players.
"You can see it in their crispness of play, balls to hand being dropped - Nickie Quaid dropped a ball today, you'd never see him doing it. There was poor shot selection, and it's that mental baggage of constantly having a target on their back.
"Every time they play they're targeted, you even see the rumours about Gearóid Hegarty [being dropped]. All that stuff weighs heavily on a team that are constantly trying to improve standards and win game after game and All-Irelands. It's starting to catch up with them and manifesting in three substandard performances."
Most Read Stories