"I think it's very unfair to say that it's not a tight backroom team" - Keegan
September 22, 2022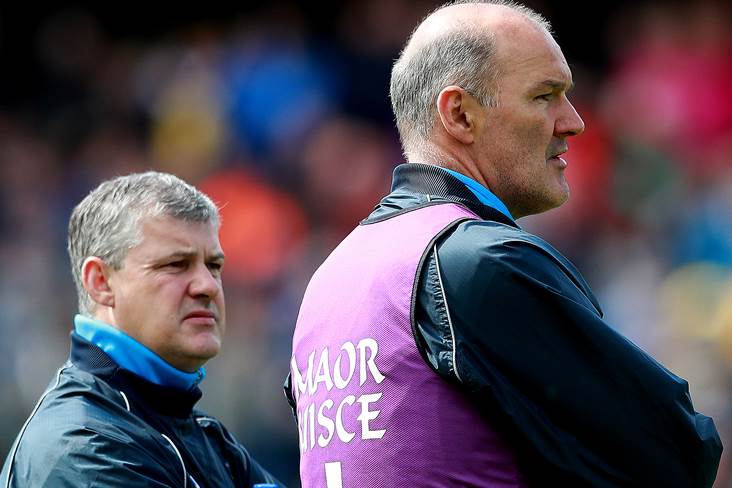 Kevin McStay and Liam McHale
Mayo star Lee Keegan says it's unfair to criticise Kevin McStay and his backroom team at this early stage of their tenure with the county's senior footballers.
McStay and his backroom team, which includes Stephen Rochford, Damien Mulligan, Donie Buckley and Liam McHale, were appointed to a four-year term a month ago today.
Speaking on the BBC Social podcast, former Armagh ace and new Wicklow manager Oisin McConville said he reckons that McStay was the wrong choice as manager ahead of Ray Dempsey – a ticket which he himself was a part of.
Five-time All-Star Keegan was not in agreement with McConville when speaking to OTB AM yesterday.
"Oisin is judging before anything is done," said the Westport man.
"You can throw out opinions and comments, and that's all fine. But at the end of the day, Kev and his backroom were picked because they had a better fit to them. That's just personal choice.
"If it was Ray Dempsey and Oisin [who were selected], again, no problem whatsoever. I think it would be very unfair to start criticising Kevin at all. He's done nothing yet in terms of players. He's only getting into his role, looking at club games and trying to get the set-up right. Judge Kevin and the squad next year on how things go. I think it's very unfair to say that it's not a tight backroom team.
"I know those guys there, I've worked with them all, so to say they're not tight would be a bit unfair this early in the season. I fully believe those guys will do a great job. Equally, if Ray and Oisin were there, I don't think there would have been an issue. They would have done a great job."
Most Read Stories