"The length of time they went without scoring is so un-Dublin-like"
July 22, 2021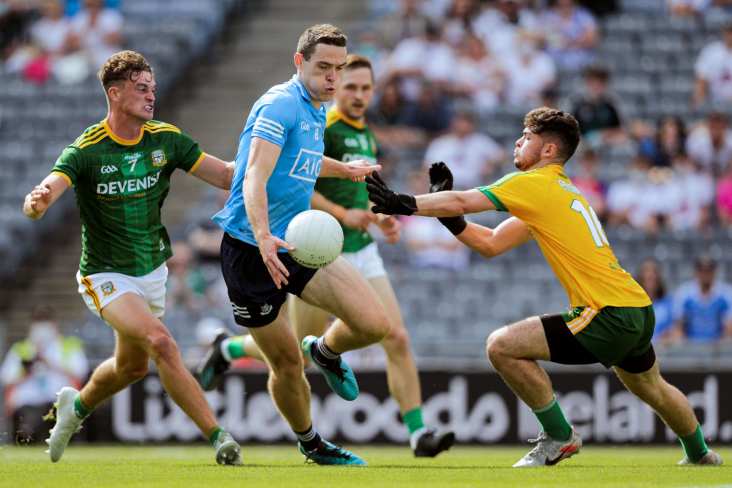 Dublin's Brian Fenton with Fionn Reilly and Andrew Colgan of Meath ©INPHO/Brian Reilly-Troy
Former Clare star Gary Brennan expects to see Dublin punished in the latter stages of the championship if they come into another barren spell like the one they experienced against Meath last Sunday.
The All-Ireland champions notched just two points during a well below par 37-minute period against the Royals at Croke Park before eventually recording a six-point win to advance to another Leinster SFC final.
Speaking on Inside The Game, Brennan said it was very "un-Dublin-like".
"The length of time they went without scoring is so un-Dublin-like," said the ex-Banner midfielder.
"It's not something we have associated with them over the last five or six years, and not something we would ever expect to see from that Dublin side.
"But when you look at the absentees, John Small, Eoin Murchan, Robbie McDaid, Kevin McManamon, Paul Mannion, [Stephen] Cluxton, [Eric] Lowndes, Paddy Andrews, Michael Darragh Macauley, Darren Daly, you cannot take that quality and experience out of a team and not expect it to have some effect."
He added: "I definitely think those teams who are looking for an opportunity are going to seize on that and see it. If Dublin go that length of time without scoring against teams of higher quality, I think they will be made to pay for it."
Most Read Stories