Monaghan GAA bids farewell to 'Ogie'
July 21, 2021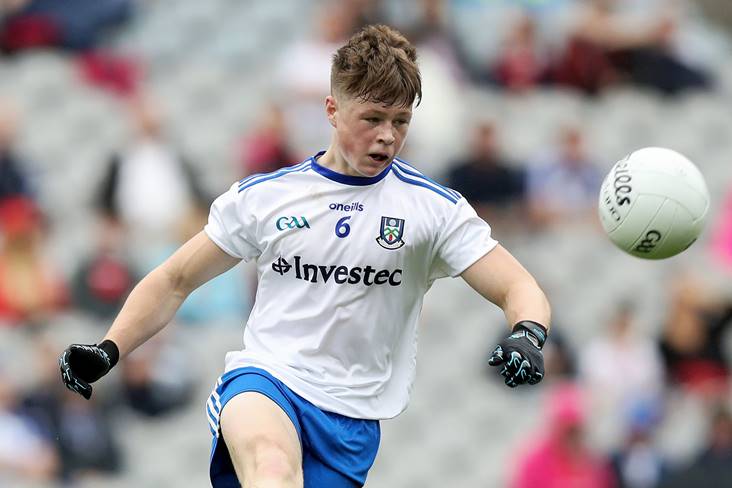 Brendán Óg Duffy RIP.
The funeral of Monaghan U20 football captain Brendán Óg Duffy took place at St. Macartan's Cathedral in Monaghan this morning.
The 19-year-old died tragically in a car crash last Friday night at Clontibret on his way home from captaining his county in their Ulster semi-final victory over Donegal. The popular Monaghan Harps clubman known as 'Ógie' was also captain of the Monaghan minor team which won the Ulster title in 2018.
With limited numbers in attendance due to Covid-19 restrictions, Brendan's teammates formed a guard of honour and accompanied his remains to the church where his coffin was draped with the Monaghan flag. Among the gifts brought up to the altar were three GAA jerseys from his club Monaghan Harps, county Monaghan and school Coláiste Oriel whom he represented with great pride and honour.
"He had his rosary beads and cross in the side pocket of his kit bag last Friday night," Canon Paddy McGinn said during the ceremony.
Fr McGinn added: "After matches, the Ó Dufaigh household was often the boys' immediate headquarters and nine kit bags were counted in the hallway after one particular match. Ógie was always very humble, he never played up his game. All he would ever say was 'I had a good enough game'."
Monaghan forward Conor McManus said 'Ógie' was destined to play senior with the county, when speaking on Morning Ireland.
"There's no doubt in the world that Ógie would have been brought into the Monaghan panel next year. He's the U20 captain this year, he was the minor captain two years ago," McManus said.
"Last Friday night in the second half of their game they made a massive comeback, and Ógie was centre to all of that. It's just typical of his character how he played football, with heart, determination, passion and leadership.
"He was really buzzing for the final after the game last Friday night and he didn't get a chance to go to that. He doesn't get a chance to do so many other things in his life that were all laid out for him, and it's devastating for him and his family, it's just insurmountable really."
Most Read Stories