Seconds out round 2 this day 30 years ago
June 09, 2021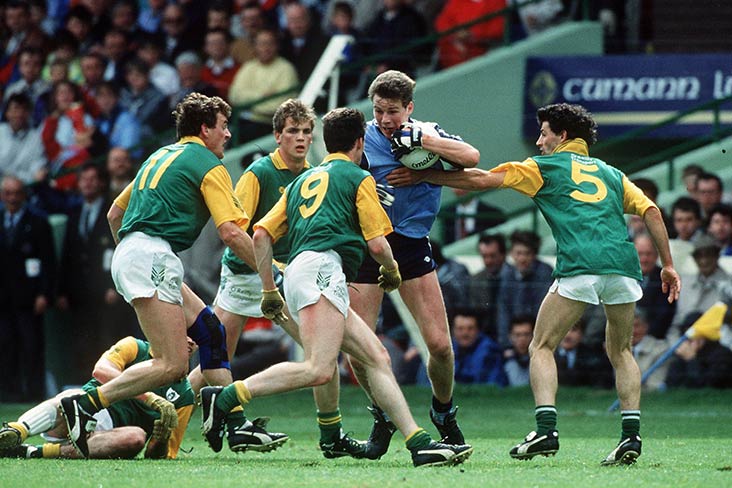 Paul Bealin is surrounded by Meath players Colm O'Rourke, John McDermott, Sean Kelly and Kevin Foley during the 1991 Leinster SFC replay at Croke Park
This day 30 years ago Meath and Dublin were back in Croke Park for the 2nd instalment of the now historic Leinster SFC Preliminary Round.
By the time the Meath Juniors defeated Dublin also in a replay to claim the Leinster title Croke Park was jammed for the senior replay.
Despite (or perhaps because of) much hostile press description of the opening game, 10,000 additional enthusiasts turned up at Croke Park to see the second episode of the saga. None of the 60,960 could have been disappointed.
Meath played with the benefit of the breeze in the opening half and gradually chiselled out a 0-6 to 0-3 lead at half time. Dublin who were forced to line out without Mick Galvin, Charlie Redmond and Niall Guiden had one ace up their sleeves. Barney Rock was in devastating form, kicking eight points from frees, and early in the second period, largely due to his accuracy, Dublin were on level terms. Eleven minutes into the second half they took the lead and appeared to be on course for a second round meeting with Wicklow.
The boys in green and gold dug deep and subsequently the lead changed hands three times before Brian Stafford, cool as ever, pointed the equaliser with just four minutes remaining. Two minutes later, Mick Lyons was dismissed, but still Dublin could not get a vital score. Vinny Murphy had a great chance, (a point would surely have won the game, or would it?) but Michael McQuillan advanced pluckily to make one of the year's great saves and soon afterwards, Tommy Howard blew the final whistle. Meath 0-10, Dublin 0-10.
Extra-time and more aching limbs. The spectators were hardly back in their seats when Kieran Duff gave Dublin the lead but David Beggy replied almost immediately with a goal. Meath were back in the driving seat and a buzz of anticipation grew among their supporters. Brian Stafford stretched the lead to three points but minutes before the break Jack Sheehy fisted home a Barney Rock free to level the scores once again. Incredibly, there was no further scoring as sheer exhaustion took over. Even the referee went down with cramp. The final score was Meath 1-11, Dublin 1-11.
The Meath team was Michael McQuillan, Robbie O'Malley, Mick Lyons, Terry Ferguson, Kevin Foley, Liam Harnan, Martin O'Connell, Liam Hayes, Sean Kelly (0-1), David Beggy (1-1), Colm O'Rourke (0-1), Tommy Dowd, Brian Stafford (0-5, all frees), PJ Gillic (0-2), Bernard Flynn (0-1). Subs: Colm Coyle for Harnan, John McDermott for Dowd. In extra time Terry O'Connor for Gillic and Alan Browne for McDermott.
Dublin: John O'Leary, Mick Keegan, Ciaran Walsh, Mick Kennedy, Tommy Carr, Keith Barr, Eamon Henry 0-1, Dave Foran, Paul Bealin, Barney Rock 0-8, Jack Sheedy 1-0, Donal McCarthy, Paul Curran, Vinnie Murphy, Kieran Duff 0-1. Subs: Paul Clarke 0-1 for Curran, Gerry for Kennedy. Extra time: Curran for Bealin, Ray Holland for Barr, P. Doherty for Foran.
The media swung behind both teams, with the predictable begrudging exceptions. The overall opinion was backed by the scoreboard, there was literally nothing between the sides and neither deserved to lose. One national newspaper stated, "it really would have been an injustice had either team lost to a late point." This was an ironic prophecy made after the second episode.
Most Read Stories