Tally says training breach was an error of judgement but he knows other counties were at it
May 13, 2021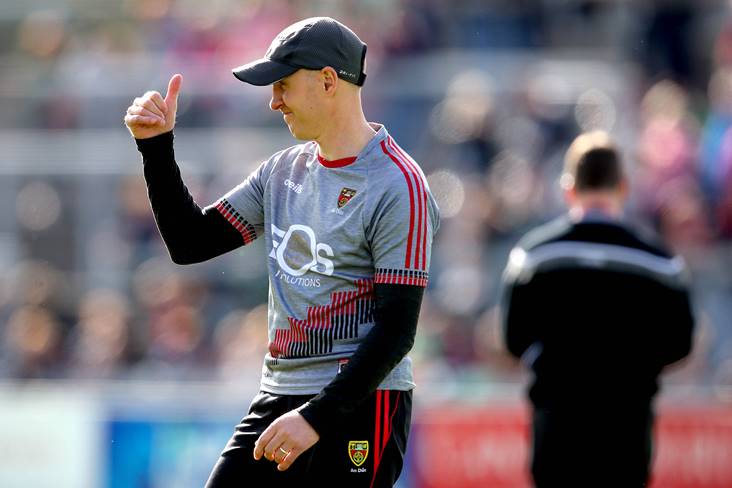 Down manager Paddy Tally. ©INPHO/Ryan Byrne.
Down manager Paddy Tally says he wishes he had never taken the coaching session in Abbey CBS last January that was deemed in breach of the GAA's Covid-19 rules.
Tally received an eight week suspension from the GAA for organisining the session and talking to Brian Carthy on his latest Podcast, the Mourne manager says it was an 'error of judgement'.
"It was an error of judgement on my behalf and I do regret taking the players out for that session," explained Tally who said it was definitely unusual to see the PSNI arrive half way through. "It was strange, they don't normally come to watch training sessions."
Explaining the circumstances, Tally says they were working with a small group of new players to the panel.
"I had a number of new players out. I'd taken a few players out to show them the running programme, what they had to do for the next six weeks before we would start training, just to get ready. That's all it really amounted to.
"As the law was in the North, we weren't breaking any Covid regulations. In the North we were seen as elite and the law says you could train in groups of less than 15. But we did break the GAA rule. Looking back at it now, I wish we just hadn't done it."
Tally also explained that he knew other counties were training and the get together was an attempt not to get left behind.
"That was our first get together and to be honest with you, we knew that a lot of other counties were back out doing stuff. And I had been contacted by a number of other managers telling me that they had been doing bits and could we take a challenge match. So I thought most other counties that I know are doing it so maybe we should start getting something done. It was a little bit of panic on my behalf and an error of judgement."
Brian Carthy will be releasing a number of Podcasts and you can also hear him over the course of the summer as he continues to work with RTÉ.
Most Read Stories