"There are loads of rest periods, so I think it has actually gone full circle again"
April 30, 2021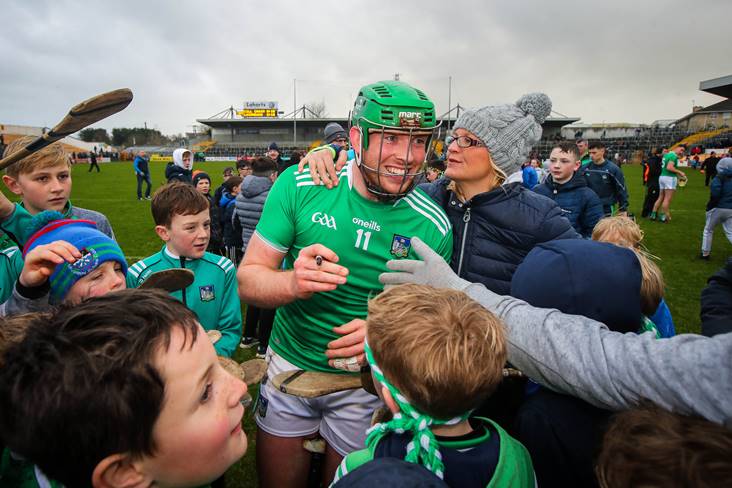 Limerick's Shane Dowling is congratulated by supporters after the Allianz HL Division 1A round 3 victory over Kilkenny at Nowlan Park. ©INPHO/Ryan Byrne.
Former Limerick star Shane Dowling feels that the inter-county game has "gone full circle again" with regards to fun and freedom for players.
Speaking on RTE Sunday Sport this past weekend, ex-Tipperary hurler Shane McGrath agreed with the assessment by strength and conditioning coach Mike McGurn that a lot of inter-county football teams are doing more training than the All Blacks.
While he says there is "still a fun element in the club" game, McGrath reckons "the craic is gone out of it" when it comes to inter-county.
Dowling, who had to retire last year because of degenerative knee and cartilage issues, disagreed with the Tipp man.
"I would totally disagree with that (McGrath's viewpoint)," he told the RTE GAA podcast. "I remember back, six or seven years ago, it was definitely gone to the stage where it wasn't (fun) anymore.
"If you heard that the neighbouring county is training at 6am, you needed to get up at half five. Everything became so serious.
"That's what made it (retirement) even harder for me. If I had to retire six or seven years ago, you'd nearly say, 'I'll just get out of that'.
"In the last couple of years, and I can only speak from a Limerick perspective, it's very enjoyable. It's very structured. You do your three pitch sessions, you get your gym session in, definitely once a week as a group.
"You get plenty of time off. There are loads of rest periods, so I think it has actually gone full circle again."
Most Read Stories