Declan Kirby GAA Star has been selected to be in Aldi's May children's promotion
April 30, 2021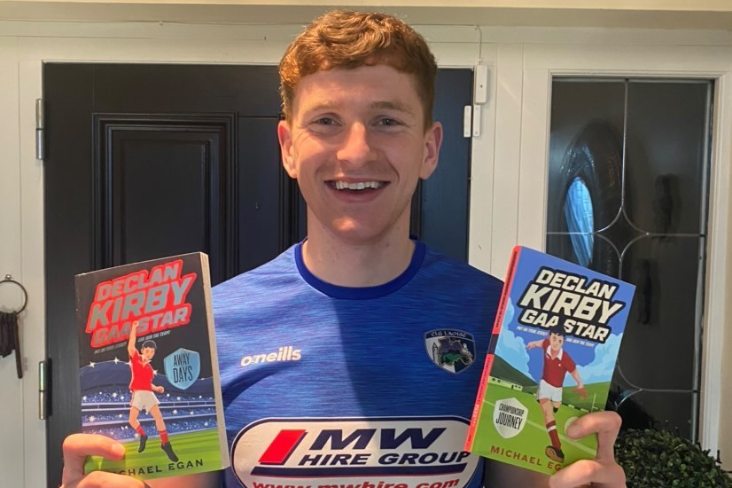 Laois footballer Evan O'Carroll with the Declan Kirby books
Aldi have chosen Michael Egan's Declan Kirby GAA Star book : Championship Journey to be in their May Children's promotion.
Starting on 22/5 the first book will be spread across all their stores in Ireland. Book two is available now at https://www.easons.com/Declan-Kirby-GAA-Star-Book-2-9780717190508
Primary school teacher Michael Egan's first book Declan Kirby GAA Star: Championship Journey which is published by Gill Books was out 26th March. It got off to a good start selling out on the Amazon and Easons online platforms within five days.
Egan says "It's fantastic. I'm amazed at how this has all gone. I was actually speechless when it sold out of Easons as quickly as it did. And it's not too often that I'm speechless! For the book to be selected as the Aldi children's promotion for the month of May is a great privilege and honour. I'm delighted but again I would like to thank everybody in Laois and beyond for the support they have given me."
The book is now back in stock in Easons and is also available to buy in many stores in Laois including All Books, The Book Mark and some Super Valus. You can also purchase it online at Book Station, books.ie, Dubray and Bookcentre.
A huge amount of Gaelic stars have helped with promotion in recent weeks including Stevie Mc Donnell, Andy Moran, Kevin Feely, Paddy Bradley, Noelle Healy, Eoin Cadogan, Kieran Lillis, John O' Loughlin, Shane Curran, Evan O' Carroll, Gary Sice , and Gareth Dillion.
Jack Nolan gave a glowing review on his Twitter account saying "What a fabulous book! I know it is aimed at 7 to 12 year olds but I thoroughly enjoyed it and kids will love it! A GAA story for them to enjoy. It's a brilliant book and three more to follow!"
More good news is the second book in the series Declan Kirby GAA Star: Away Days is out this week on April 30th. You can pre-order now at https://www.easons.com/Declan-Kirby-GAA-Star-Book-2-9780717190508 or any of the previously mentioned stores.
More about the books
Championship Journey - Follow the trials and tribulations of Declan Kirby and his team at Smithgreen Gaelic football club, a recently formed but promising GAA team. Although they have a talented team, there are problems beneath the surface – will their temperamental star player Dereck produce the goods when it is really needed? Meanwhile, someone seems to be hatching a secret plan to have the manager replaced, just when they need him the most. Declan also carries a secret wish – that his dad will once again come and see him play. Maybe if they make the championship final his dream will come true?
Away Days - Declan Kirby can't believe it when he's selected for the county team. What's more, a few of his Smithgreen teammates are chosen as well. Declan and his friends band together to try and win an All-Ireland underage competition and travel to Galway where they find out all is not what it seems.
Most Read Stories