McConville: Donaghy will have big role to play in Armagh
April 28, 2021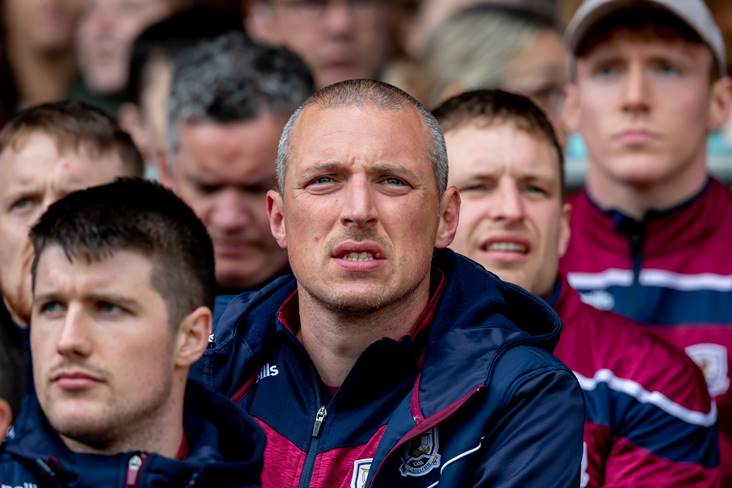 Former Kerry footballer Kieran Donaghy on the backroom team for Galway. ©INPHO/Morgan Treacy.
Oisín McConville expects four-time Kerry All-Ireland winner Kieran Donaghy to play a big role in Kieran McGeeney's Armagh senior football backroom team.
Donaghy, who brought the curtain down on his illustrious inter-county career three years ago, has been drafted into the Orchard County set-up as they prepare for their first season in Division 1 since 2012.
There are positive vibes coming from the Armagh camp about the Austin Stacks clubman.
"I think the boys had saw him once or possibly twice before things went into lockdown," McConville said when speaking at the Extern Problem Gambling media day.
"I think the initial reaction was very, very positive. I think it's something different. You're taking a whole new perspective.
"A lot of the time it's been Ulster coaches going to Leinster, Connacht, Munster. Whereas this time around, that's been flipped on its head. So I think it's a positive thing, and I think there's a lot of know-how there, and there's certain players in particular who Kieran Donaghy can help bring on their game in a massive way."
The Crossmaglen legend picked out the players who could benefit greatly under the tutelage of Donaghy.
"I was thinking my nephews, Rian and Oisín in particular. The fact that they play in that sector of the field. But also I'm thinking the likes of Stefan Campbell who over the last number of years has probably played in all six positions in the forward line.
"Maybe he can help him [figuring out] what are his best positions to pick up, because I think he has a big role to play in this Armagh team this year. Then the likes of Ross McQuillan coming back from Aussie Rules. So lads like that. They're the ones that spring to mind instantly."
Most Read Stories