The pain remains for Cavanagh
April 19, 2021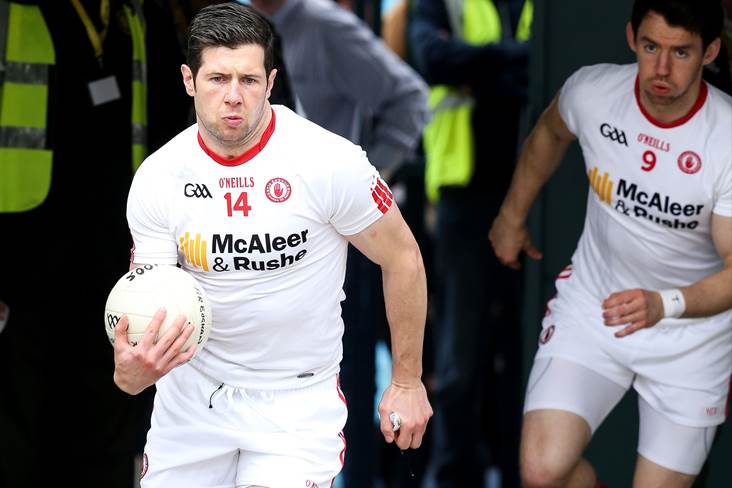 Sean Cavanagh leads out Tyrone.
©INPHO/Presseye/Andrew Paton.
Tyrone legend Sean Cavanagh talks about the many sacrifices he made playing the game he loves in this week's episode of Laochra Gael.
The Moy Tír Na nÓg clubman won three All-Ireland titles, six Ulster crowns, two National Leagues and five All-Stars as well as a Footballer of the Year award during his incredible 16-year senior inter-county career.
Cavanagh played an astonishing 89 championship matches for Tyrone, an all-time record for appearances by an outfield player, and with it came a high price to pay. Now, he suffers from aches and pains on a daily basis.
"I certainly have scars in various parts of my body where operations were necessary," he tells viewers.
"I get up in the morning with stiff ankles, stiff knees, stiff shoulders - thankfully I'm married to a GP who can help me get through a lot of it.
"I certainly sacrificed a lot physically and probably through my own time mentally as well. I really pushed myself to limited."
In his mid-20s, a specialist told him he had the knees of a 70-year-old but Cavanagh ignored medical advice to play on.
"I could see written on the sheet that it was BOB, which he told me as bone-on-bone, that'd I'd worn away whatever protection I had on my right knee," he continues.
"He said, 'Look, how many games do you play a year?' I was trying to be conservative saying maybe 20-25. It was probably closer to 35. He said to me, 'That number needs to be 10 and you're going to have to miss every other training.'"
On: Thursday 22 April @ 9.30pm on TG4
Most Read Stories