Christy Ring winners Kildare lead Champion 15 selection
February 15, 2021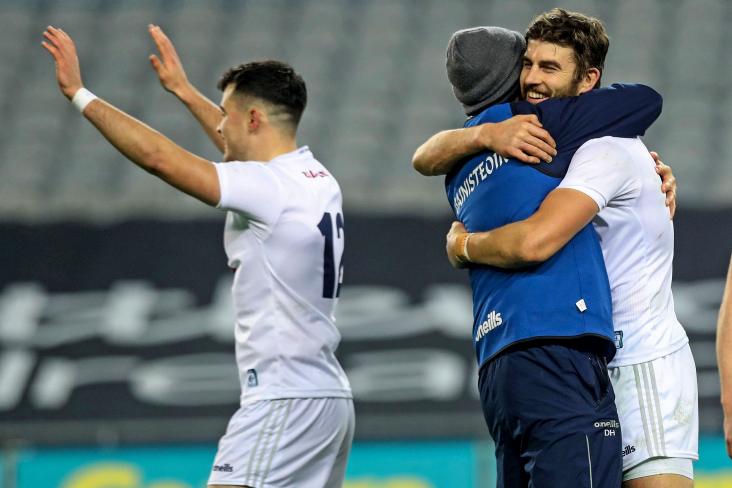 Kildare manager David Herity celebrates with Paul Divilly after the game Christy Ring Cup final win over Down. ©INPHO/Lorraine O'Sullivan
The top hurlers from last year's Christy Ring, Nickey Rackard and Lory Meagher Cup competitions have been announced with confirmation of the 2020 GAA/GPA Champion 15 team this afternoon.
Players from nine different counties are represented in the team of 15, with seven from the Ring Cup, six in the Rackard Cup and two that competed in the Meagher Cup.
Leading the way, Christy Ring Cup champions Kildare have been honoured with four positions on the team while Donegal, Down, Fermanagh, Louth, Mayo, Offaly, Tyrone and Wicklow are all also represented.
There are also personal accolades for Paul Divilly of Kildare (Christy Ring Cup), Donegal's Danny Cullen (Nickey Rackard Cup), and Louth's Andrew Mackin (Lory Meagher Cup).
GAA president praised those honoured by saying: "This is a great honour for the players chosen and for their families and clubs who they represent. These awards will be a reminder of the lengths all our players went to for our benefit during the tough year that was 2020."
Paul Flynn, CEO of the GPA, added: "First of all, I want to take this opportunity to thank all the players who competed in the Christy Ring, Nickey Rackard and Lory Meagher Cups in 2020. In very challenging times, you helped give fans of our games all over the country something to look forward to and discuss on a weekly basis and that should not be underestimated. My warmest congratulations to the 15 players who have made the Champion 15 and to Paul, Danny and Andrew on being named as Players of the Year in your respective competitions. You are all very deserving winners."
The selection process for the team of 15 included player and coach feedback and was finalised by an independent selection committee of journalists and referees.
A special programme to honour the GAA/GPA Champion 15 is set to be featured on RTÉ 2fm's Game On programme this Wednesday evening from 6pm.
GAA/GPA Christy Ring Cup Player of the Year: Paul Divilly (Kildare)
GAA/GPA Nickey Rackard Cup Player of the Year: Danny Cullen (Donegal)
GAA/GPA Lory Meagher Cup Player of the Year: Andrew Mackin (Louth)
GAA/GPA Champion 15:
1: Stephen Keith (Down) – Christy Ring Cup
2: Sean McVeigh (Donegal) – Nickey Rackard Cup
3: Caolan Taggart (Down) – Christy Ring Cup
4: Cathal Freeman (Mayo) – Nickey Rackard Cup
5: Conor McShea (Fermanagh) – Lory Meagher Cup
6: Rian Boran (Kildare) – Christy Ring Cup
7: Danny Cullen (Donegal) – Nickey Rackard Cup
8: Eoghan Cahill (Offaly) – Christy Ring Cup
9: Paul Divilly (Kildare) – Christy Ring Cup
10: Damian Casey (Tyrone) – Nickey Rackard Cup
11: James Burke (Kildare) – Christy Ring Cup
12: Shane Boland (Mayo) – Nickey Rackard Cup
13: Jack Sheridan (Kildare) – Christy Ring Cup
14: Andrew Mackin (Louth) – Lory Meagher Cup
15: Christy Moorehouse (Wicklow) – Christy Ring Cup
Most Read Stories