Every picture tells a story
March 21, 2020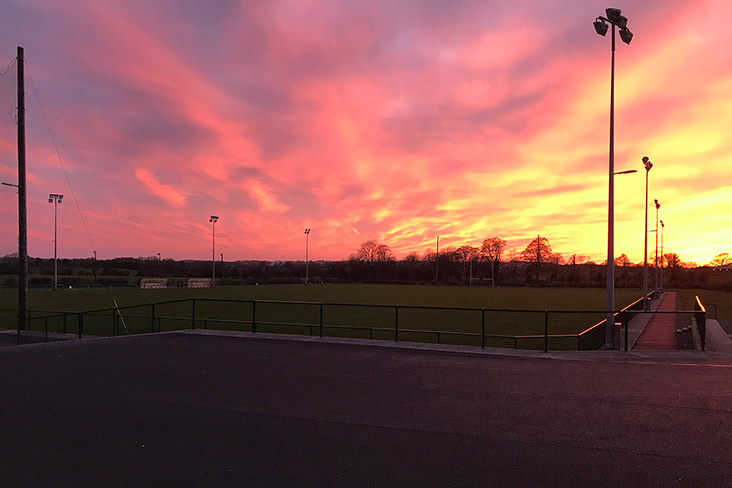 The sun sets over the fantastic facilities at Ballinlough GFC
Ballinlough (Meath) PRO Susan Farrell has summed up how the whole GAA community is feeling at the moment.
A Friday evening in mid March, the referee would have thrown the ball up by now and two teams would be going hell for leather for 60 odd minutes, managers would be shouting instructions, PRO's furiously writing or asking "who scored that?!"
Subs would be running up and down the sideline waiting for the call. Young fellas running in to get water into some of their idols, the auld fellas would be questioning how that lad never made county, or maybe asking how that other fella did.
The women would be groaning with every hard shoulder and crunch tackle that comes into view. As the game goes on the gate men would be toting up the figure from tonight's game, the stewards would be making sure the showers are working and the water is hot, the volunteers making sure the half time tea is ready to go, but all other eyes in the Park would be on the ball and who was going to win.
Alas today there is silence in the Park, there is no game, no referee, no teams, no spectators, but what remains is a beautiful silence and a glorious view that wouldn't get a second glance on any other day. But today there is beauty, there is serenity and most importantly there is hope that we will all be back watching our beautiful game very soon.
Stay safe everyone.
Most Read Stories