Sean Cox returns home to be reunited with his family
March 20, 2020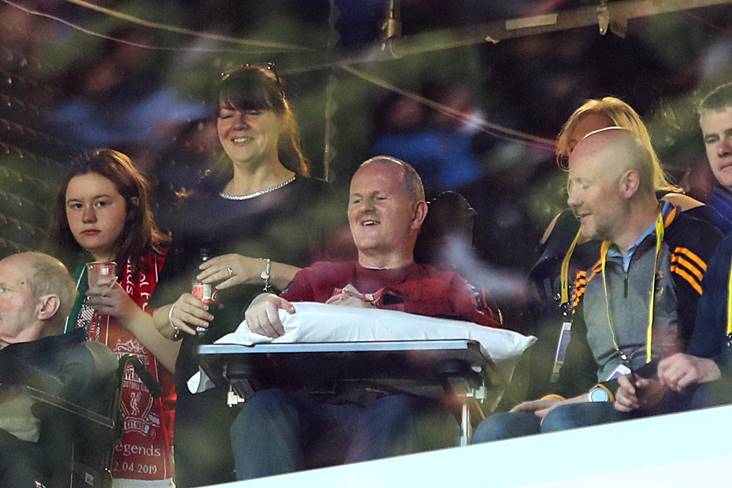 Sean Cox before the Republic of Ireland Legends-Liverpool Legends fundraiser at the Aviva Stadium. ©INPHO/Ryan Byrne.
A bit of good news.
Sean Cox has returned home to Dunboyne to be reunited with his family, almost two years since he suffered serious brain injuries after he was attacked outside Anfield.
The former St Peter's GAA, Dunboyne chairman was attending Liverpool's Champions League semi-final encounter with AS Roma in April 2018 when Italian hooligans launched a vicious assault on him.
Sean had been left in a critical condition at the Walton Centre in Liverpool before being transferred to Dublin's Beaumont Hospital and later cared for at the Dun Laoghaire Rehabilitation Hospital and the Marymount Care Centre in Lucan.
A charity game between the Liverpool Legends and an Ireland XI took place at the Aviva Stadium last April and raised €750,000 for the Clondalkin native's Rehabilitation Trust.
A day they've been looking forward to for a long time, the Cox family released the following statement via Facebook:
"Amidst our challenges, a positive moment as Sean Cox makes his return home."
"For the first time in almost two years, the Cox family are finally reunited under one roof as Sean makes a long awaited and welcome return to his home in Dunboyne.
"Sean's journey over this time has been challenging and difficult, however today is an important and positive milestone for Sean and his family.
"While Sean will continue to require full-time care and ongoing rehabilitation for the foreseeable future, today is defintiely a day to enjoy.
"Seans wife Martina, commenting on his return home, said: 'This is a day we as a family have been looking forward to for a long time. While Sean still has a long road to travel, having him home with us is an incredibly important step as we come together as a family unit again.
"I can't thank enough those who have helped Sean along the way over the past two years. Without a doubt this support has made today possible.
"In particular, I would like to thank the incredible staff in Marymount Care Centre in Lucan for the care and support they have provided to Sean over the past number of months.'
"At a time when staying at home takes on new meaning for all of us, its clear that there is no other place that Sean would rather be."
Most Read Stories