Gavin decision was a bolt from the blue for Dublin chairman
December 01, 2019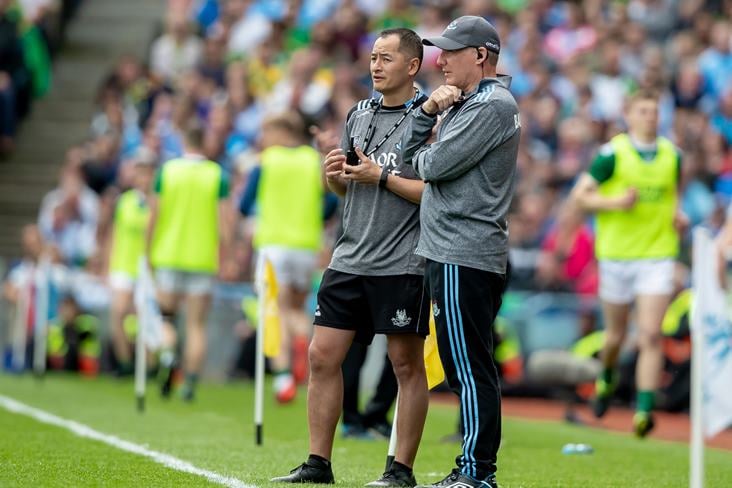 Jason Sherlock with Dublin manager Jim Gavin
Dublin GAA chairman Seán Shanley has admitted that Jim Gavin's decision to step down took him completely by surprise.
Gavin contacted Dublin CEO John Costello yesterday morning to inform him that he wouldn't be continuing as Dublin football manager, less than three months after guiding the county to an unprecedented five-in-a-row of All-Ireland titles.
"I still think the alarm clock is going to go and wake me up," Shanley said in an interview with RTÉ Radio One's Sunday Sport.
"The cathaoirleach was shocked to tell you the truth. At about nine o'clock or half nine, I got a call from John Costello, he was after getting a call and Jim wanted to talk to him. John met Jim and Jim told him he was 'handing over the reins' was the way he termed it.
"He simply said it was the right time to go, for Dublin; he felt it was the right time for him to go and leave it to someone else."
Shanley continued: "About midday he met the players out in Innisfails and told them all the news.
"I suppose you'd have to say the bad news. I have no doubt it was emotional and hard to take and a shock to all the players. It was out of the blue.
"I met a couple of the players at an U21 match. He was like a father figure to them. I think he knew what was going on in lads' personal lives. He was able to relate to them if a lad was a bit off or a bit contrary. He knew if something was going on and treated them fair.
Shanley indicated that he would like someone who has already been involved with managing Dublin teams to replace Gavin.
"We would probably think that it would be somebody who has managerial experience, whether that be with minors or U21s. With that experience and keeping a link to that old regime, it probably would be the best way to go."
Most Read Stories