Cushendall get Emmet's out of a 'sticky' situation
November 09, 2019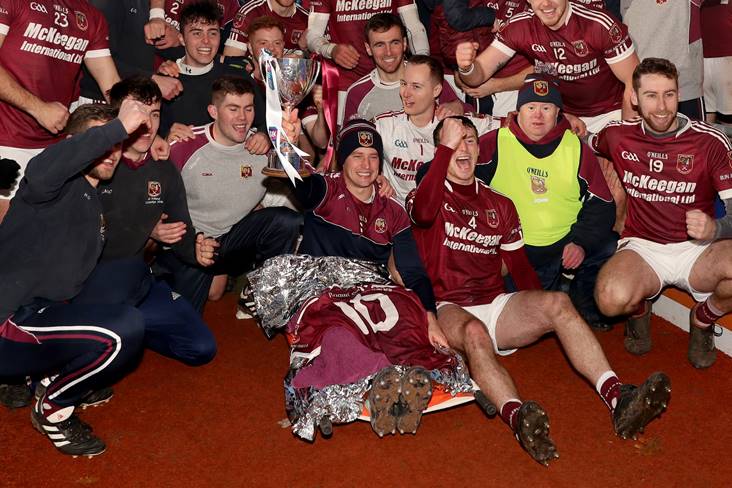 Cushendall's Arron Graffin celebrates with his teammates on a stretcher after the Ulster club SHC final victory over Ballycran at the Athletic Grounds. ©INPHO/Declan Roughan.
Cushendall have been praised for donating hurls to the London senior hurling champions after their camans were lost in transit between Heathrow and Dublin Airports last weekend.
The former Antrim kingpins, and Paddy Magill in particular, went to great lengths to ensure Robert Emmet's Connacht club IHC semi-final against Mayo's Tooreen went ahead in Roscommon last Sunday.
"We got the first flight on Saturday morning," Emmet's manager and Cushendall native Kevin McMullan explained to the Irish News.
"We had them all in a big golf bag and we were standing waiting on them in arrivals, but they didn't turn up.
"We gave the (airline) an address in Dublin and asked to get it couriered to that address and they said that was fine. They rang us and said the bag was on its way and would be there at 4pm, but no hurls turned up.
"We rang and rang and rang but couldn't get through to anybody. We were still hopeful they would turn up on Sunday morning and then one of our players put a post on Facebook: 'Help needed, big game coming up and we have no hurling sticks…' and people rang from everywhere.
"People rang from Roscommon and Galway. Brian Hickey, who plays for St Gabriel's in London, rang to say 'I've got five or six hurls in my house and I'll get my parents to drop them over to you'.
"The Cushendall lads said: 'There's a car going down with a boot full of hurls for you lads. Take your pick'.
"We still don't know where our sticks are but fair play to all the boys up in Antrim, the Cushendall lads, Paddy (Magill) coming down to watch us and he went round and the boys fired all their sticks into a bag."
Most Read Stories