Roadworks pose 'serious safety concern' to GAA club
November 09, 2019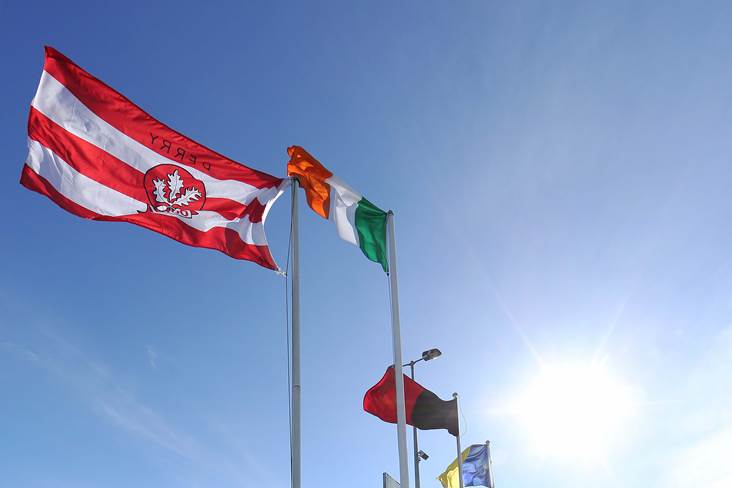 A Derry flag flies proudly alongside the Irish tricolour.
©INPHO/Presseye/Lorcan Doherty.
A GAA club in Derry has voiced concerns about roadworks that are taking place close to their grounds.
St Malachy's GAC, Castledawson is worried that lives could be lost because of a lack of lighting at the Broagh Road junction. The roadworks are linked to the multi-million-pound upgrade of the busy A6 route between Derry and Belfast.

"There are growing concerns regarding safety - and rightly so - at the Broagh Road junction, during the A6 Dual programme," the club said in a Facebook post.
"A number of local residents have voiced their fears regarding health and safety at this busy junction, which has now also been left in darkness. Previously this Broagh Road junction was adequately lit. With this, the only access to St. Malachys GAC, and community activities held here every evening, this poses a serious health and safety concern.
"There is also no provision for lighting on the new footbridge. While similarly, school children boarding buses to and from Magherafelt schools are having to disembark on this hectic stretch of road. These concerns have already been highlighted to the Department Of Infrastructure, and yet to be addressed.
"No lighting, buses, sports facilities and children - assurances and action need to be taken now, before any incident of a terrible nature should occur. Above all, health and safety comes first. And, where our precious children are concerned - it is a MUST...."
Most Read Stories