Hurling Shinty International: Ireland humiliated by rampant Scots
November 02, 2019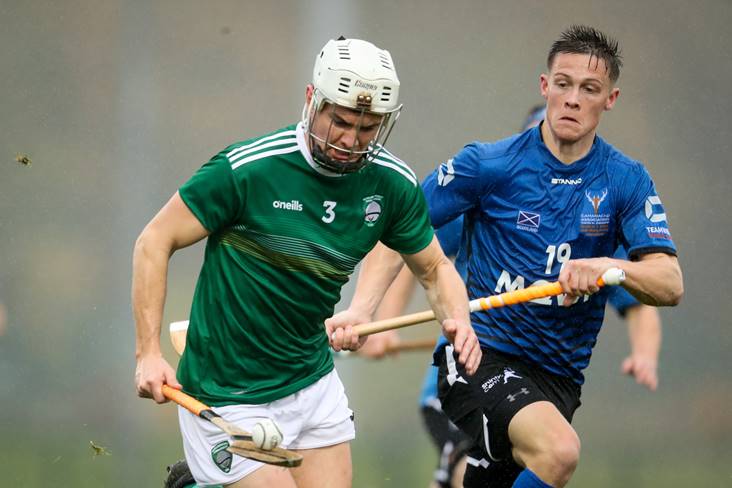 Scotland came away from Abbotstown with a 5-11 to 0-4 victory over Ireland.
Scotland 5-11
Ireland 0-4
Ireland took a hammering from Scotland in the annual Hurling Shinty International at Abbotstown today.
Traditionally, these fixtures have been competitive, but there was only one team on their game this afternoon as the visitors' superior ground hurling skills and crisp shooting cut Ireland to ribbons in the wet conditions.
Co-managed by William Maher (Tipperary) and Conor Phelan (Kilkenny), the hosts made the better start with Kildare's Paul Divilly and Donegal's Danny Cullen striking the first two points. But a Daniel Cameron point from play and a Kevin Bartlett free (worth two points when struck from the ground) gave Scotland a lead they would never relinquish.
Two goals late in the half from Craig Morrison and Andrew McCuish left the Scots perched on a 2-3 to 0-3 half-time lead, with Offaly's Cillian Kiely completing the first half scoring from a '65.
Morrison added his second major just after the restart as the Scots pulled away with frees from Steven MacDonald before Ryan Mullaney of Laois registered Ireland's only score of the half. Two more goals from Roddy MacDonald and Kevin Bartlett completed the rout.
It wasn't all bad news for Ireland who won the preceding U21 game by 7-11 to 4-2.
Scotland - Stuart MacDonald; R Kennedy, D Grieve; A MacIntosh, F MacRae, M Russell; C Mainland, F Heath, Steven MacDonald (0-6f); K Bartlett (1-2, 0-2f), C Morrison (2-0), B Morrison; D Cameron (0-1), R MacDonald (1-0). Subs: R Mabon, G Matheson, S Genini (0-2), A King, A McCuish (1-0), D Nixon.
Ireland - B Tracey; M Doyle, M Boyle; R Mullaney (0-1f), S Whelan, C Taggart; D Healy, C Kiely (0-1'65), P Divilly (0-1); D Cullen (0-1), J Boyle, G O'Kelly Lynch; W Dunphy, S Nolan. Subs: P Boyle, M Delaney, C Egan, A Grant, S McGovern, K Raymond.
Referee - C Girvan.
Most Read Stories