Louth SFC final: Blues get the job done early
October 20, 2019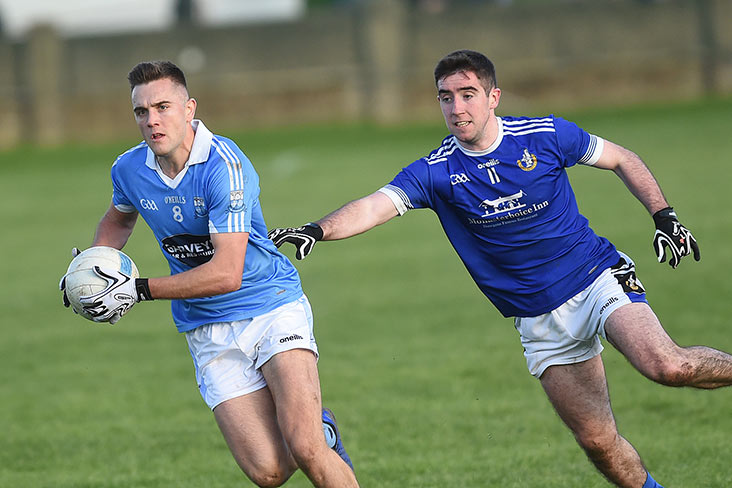 Newtown Blues Andy McDonnell gets away from Eoghan Callaghan Noamh Martin during the Louth SFC final at Drogheda
NEWTOWN BLUES 2-9
NH MAIRTIN 1-9
A blistering opening quarter set Newtown Blues up for a third successive Senior Championship title as they held off a late revival from Nh Mairtin at the Gaelic Grounds on Sunday afternoon.
The Monasterboice side went into the game with high hopes of landing a first ever Joe Ward Cup but were left with a mountain to climb as the champions asserted their authority to build up an eleven-point advantage.
Goals from Alan Connor and an Emmet Carolan penalty had the Blues 2-5 to no score clear with 16 minutes on the clock and although they added just four further points to their tally before the final whistle, they always had control of the game.
The Mairtins did fight to the end and managed a late goal from Sam Mulroy, but it was too little too late as the experience of the Blues told in the end.
Having allowed the title to slip from their grasp in 2018 the Mairtins were looking to make up for that disappointment, but they were left shell-shocked as the Newfoundwell hit them with a devastating blitz from the opening whistle.
Robert Carr opened the scoring after 60 seconds and after five minutes Alan Connor struck a major blow with a well-taken goal before Conor Branigan landed a point.
The Mairtins couldn't find a response and fell further behind when Alan Connor pointed before Carolan fired home from the penalty spot to make it 2-3 to no score.
Further points followed from Ross Nally and Andy McDonnell before the Jocks finally got off the mark through Eoghan Callaghan, with Wayne Campbell adding a second soon after.
On the stroke of half time, Sam Mulroy sent over a free to cut the gap to 2-5 to 0-3. Conor Whelan and Robert Carr exchanged points before Mulroy and Whelan raised hopes of a comeback as the cut the gap to 2-6 to 0-6.
Although Ciaran Downey and John Clutterbuck swapped points, the Blues never looked like relaxing their grip on the game and scores from McDonnell and Carr stretched the lead to 2-9 to 0-7 as the match moved into injury time.
The Mairtins fought until the final whistle and saw Mulroy and Whelan fire over before the former found the back of the net. However, it was too late to save the game and once again it was the Blues who were celebrating another Joe Ward title.
NEWTOWN BLUES: Jason Lowney; John Connolly, Fergal Donohoe, Paul Moore; Kevin Carr, Emmet Carolan 1-0, Alan Connor 1-1; Andy McDonnell 0-2, John Kermode; Conor Branigan 0-1, Colm Judge, Robert Carr 0-3; Ciaran Downey 0-1, Ross Nally 0-1, Conor Moore. Subs: Daire Nally for C Moore, Ian Connor for P Moore, Hugh McGinn for C Branigan, Jamie Kelly for R Nally, Thomas Costello for C Judge.
NH MAIRTIN: Craig Lynch; Paul Berrill, Michael Fanning, Mark Whelan; Thomas Sullivan, Conor Morgan, John Clutterbuck 0-1; Wayne Campbell 0-1, Gavan Mooney; Stephen Campbell, Eoghan Callaghan 0-1, Conor Healy; JP Rooney, Sam Mulroy 1-3, Bryan McQuillan. Subs: Conor Whelan 0-3 for S Campbell Black, Val Leddy for T Sullivan, Graeme McQuillan for C Healy, Francis McCullough for W Campbell.
Most Read Stories