Murphy a model Birr hurler
October 19, 2019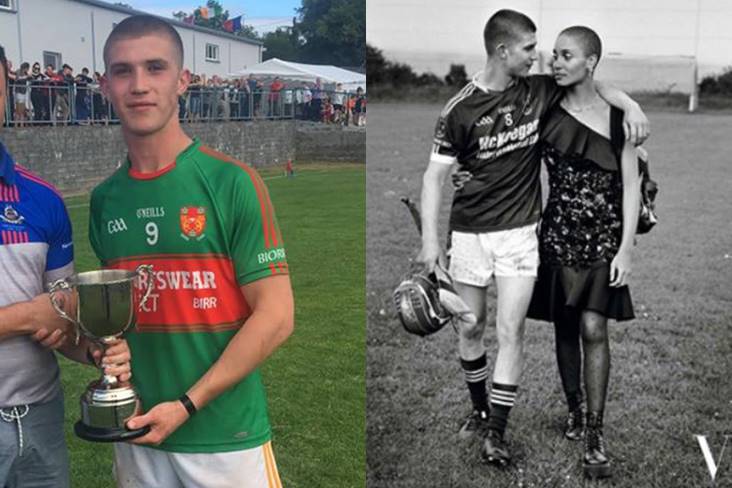 Left, Birr captain Oisin Murphy is presented with the 'Battle of Champions' trophy and right, the 19-year-old features in the Vogue Paris magazine with a Cushendall GAA jersey.
Last year Oisin Murphy was a model gracing the pages of Vogue Paris magazine – tomorrow he'll line out for Birr in the Offaly SHC final against St Rynagh's.
A picture of the 19-year-old donning the colours of Antrim outfit Cushendall, complete with hurl and helmet, alongside model Adwoa Aboah featured in the glossy magazine in what was certainly a first for a GAA player.
"I don't know if it was a plan or not but they wanted to do a shot in the hurling club," Murphy recalled in an extensive interview in today's Irish Independent.
"And the lad that was there was the chairman or something and he had jerseys in the boot of his car. And there was a team training there. So we had boots, socks, togs. The whole lot. Helmet and hurl.
"I was out pucking about with the (Cushendall) boys between shots. They probably thought... I don't know what they thought... but I was out pucking around with them and they got a great laugh out of that, they weren't expecting me to be able to hurl."
Modelling can't compete with the adrenaline rush that Murphy gets from his hurling career, however.
"When the whistle blows and the adrenaline starts, that's what I love, being pumped for a game, boys roaring on the side. You can't experience that anywhere else.
"You won't get that behind a camera doing a shoot in London. It's a very different thing."
Most Read Stories