Competitive balance top of the GPA's agenda
September 21, 2019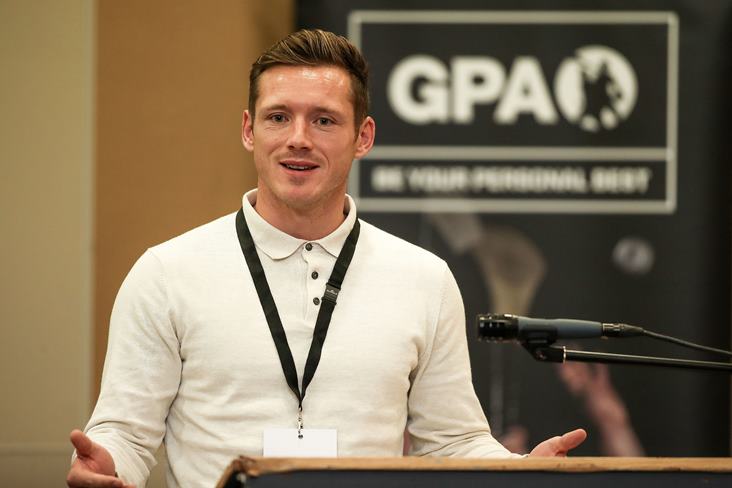 GPA CEO Paul Flynn speaking at the GPA Reps Day
One of the main topics of discussion at this weekend's Gaelic Players Association AGM will be ways of developing a "greater competitive balance in the GAA".
The GPA is to consider a number of significant motions at its annual get-together in Dunboyne, Co Meath.
These motions will seek to further enhance the player welfare and development support provided to GPA members and protect the long-term sustainability of Gaelic games.
The first motion is aimed at developing a closer relationship between the GPA and the Women's Gaelic Players Association (WGPA), while the second will advocate for the establishment of a group to explore and make recommendations to work towards developing a greater competitive balance in the GAA.
"We've four motions going to the AGM and one of them is around competitive balance," Chief Executive Paul Flynn explained to RTÉ Sport.
"It came from the players. There's a number of players who've been in touch with the GPA with regard to resources for their teams, in regards to structures."
He added: "I believe in getting a working task force together, similar to a fixtures task force working group, where you get an eclectic mix of key stakeholders within the GAA looking at competitive balance within hurling and football and seeing what kind of policy we can formulate from that.
"It'll be to ensure that all squads have a chance of winning any particular game or competition within a given year.
"Players love the league and there's a reason for that. It's because they feel there's a chance of winning a competition. There is an appetite for change."
Further motions seek to review the current GAA Concussion Management Guidelines and formalise a centrally administered online expenses platform for intercounty players.
Most Read Stories