Congress: Dubs will continue to enjoy home comforts after Donegal motion fails
February 23, 2019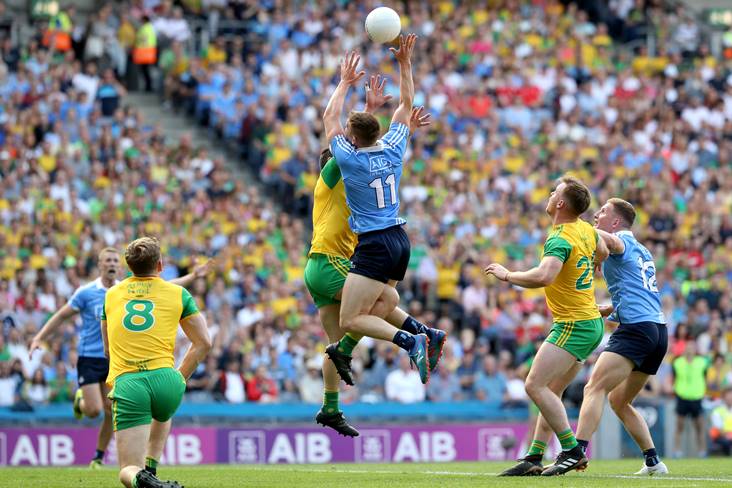 Donegal and Dublin players contest a high ball. ©INPHO/Bryan Keane.
A Donegal motion proposing that Dublin can only play one of their three Super 8 matches at Croke Park was defeated at Congress in Wexford this afternoon.
The motion received just 36% of the vote after Donegal had initially raised the issue before their quarter-final meeting with the Dubs at GAA headquarters last summer.
Donegal chairman Mick McGrath argued that playing in Croke Park gave Jim Gavin's men an unfair advantage, but this was dismissed by Dublin secretary John Costello who noted how thousands of Dublin supporters would be left disappointed if they had to play their home Super 8 games in Parnell Park.
Former GAA president Sean Kelly criticised Donegal for tabling the motion.
"This is a very negative motion and deserves a negative response. Anyone who wants to beat the Dubs should aspire to do so in Croke Park. That's certainly what we aspire to do in Kerry as we bid to stop the 'Drive for Five'," he said.
Most Read Stories