Ulster MFC: semi spots secured by Tyrone, Derry, Fermanagh and Monaghan
December 20, 2020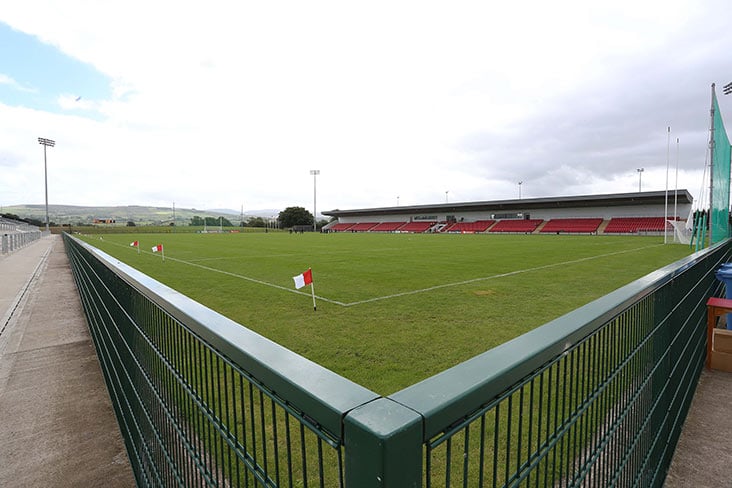 Tyrone, Derry, Fermanagh and Monaghan are into the Ulster MFC semi-finals
Ruairi Canavan struck two late points as Tyrone edged out Donegal in Ballybofey to move into the semi-finals of the Ulster minor football championship this afternoon.
It finished 0-8 to 0-7 at MacCumhaill Park, where the visitors landed three points in the closing quarter to snatch victory.
Conor O'Neill's converted mark saw Donegal lead by 0-4 to 0-3 at the half and they'd be two to the good early in the restart before a Canavan brace tied things up.
Blake McGarvey nudged the home side back in front on 40 minutes before a Harry Morgan '45' and a superb point from Canavan sent the Red Hands on their way.
It sees Tyrone now take on Derry in the Ulster semi-finals on the weekend of January 2/3 after the Oak Leafers edged Armagh by 1-7 to 0-8 in Owenbeg.
Two late frees from Matthew Downey were what got Derry over the line against the Orchard men, having trailed by 0-4 to 0-3 at the break.
Armagh held their one-point lead until the 10th minute of the restart when Dan Higgins crashed a close range shot into their net.
The visitors got level by the second water break (1-5 to 0-8) but couldn't find any more scores as Downey's late brace sealed Derry's berth in the last four.
In Enniskillen, Fermanagh scored a 0-10 to 1-4 win against Down to usher themselves into the last four.
Down edged a better start at Brewster Park in the opening minutes but fell behind once scores Conall Boyle and Ronan McCaffrey sailed over, giving the hosts a 0-3 to 0-2 lead at the water break.
Down's Oran Cunningham would pick up a black card minutes into the resumption and from there the Ernesiders opened up a five-point lead via the points of Ronan McGovern, Conor McGovern, Conall McGovern and Fionan O'Brien to lead by 0-7 to 0-2 at the interval.
The Mourne lads got right back into contention at the start of the second-half with a goal from Niall Toner but they didn't push on, going down to 14 men instead, as a pair of O'Brien points ensured Fermanagh a place in the semis alongside neighbours Monaghan early in the New Year.
Having edged Cavan with a last minute goal in the preliminary round two months ago, the Farney men were impressive in a 2-17 to 0-8 win against Antrim today at Corrigan Park.
James Slevin's goal helped Monaghan to lead by 1-6 to 0-4 at half-time and after the turnaround they'd be in relentless form.
The victors would slam home their second goal with 10 minutes to go as they went on to round off a 15-point victory in west Belast.
Tyrone - H Morgan (0-1'45); M Rafferty, E McCaffrey, C Kelly; J Donaghy, L McGarrity, S O'Donnell; O McGrath (0-1), C Colton; R McHugh, C Devlin, R Campbell; S Quinn, R Canavan (0-5, 1f), C McGillion (0-1). Subs: C Cush for C Devlin, T Grimes for O McGrath, B Ryan for S Quinn.
Donegal - M Gordon; C Mulligan, K Murray, C McEntee; E O'Donnell (0-2), O Crawford, R McDonnell (0-1); D McKinney, S Quinn (0-1); C McMonagle, D Gildea, F Coyle; B McGarvey (0-1), C O'Neill (0-1m), L McGlynn (0-1f). Subs: D Boyle for F Coyle, E McLaughlan for C McMonagle, L Donnelly for S Quinn.
Referee - P Clarke.
**
Derry - K McGonigle; A McGonigle, S Deehan, C Shiels; M Doherty, E McEvoy, L Brady; D Higgins (1-1), P O'Kane; R Dillon, M Downey (0-5f), J McDermott; C Diamond, L Murray (0-1), P McCullagh. Subs: C Downey for P McCullagh, P McGurk for A McGonigle.
Armagh - C Doherty; D Mallie, G Murphy, E Magee; A Garvey (0-1), N Dummigan, F O'Brien; M Burnett, O McCafferty; A McParland, R Fitzpatrick (0-5, 2f), S Conlan; D McMullen (0-1), C Donnelly, C Finnegan. Subs: Z McKernan for E Magee, M Lennon (0-1) for C Donnelly, M McConville for M Burnett, F Kieran for O McCafferty.
Referee - E McFeely.
**
Fermanagh - R Bogue; N Maguire, U O'Reilly, D Bogue; C Boyle (0-1), F O'Brien (0-3), C Leonard; D King, J McDade; M Prusakiewicz, R McCaffrey (0-2), R McGovern (0-2); M Flanagan, C Murray (0-1), C McGovern (0-1). Subs: D Flanagan for D Bogue, S Conlon for C Murray, E McCabe for D King, E Prunty for C Leonard.
Down - C Grant; F McEvoy, P McCarthy, L Guinness; J Kelly, R Magill, E McKernan; O Murdock, J Howlett; N Toner (1-1), O Cunningham, O Savage (0-2); T McCartan, Z Murdock (0-1) C Rodgers. Subs: E Loughran for J Howlett, W Kelly for J Kelly.
Referee - C McDermott.
**
Monaghan - D Croarkin; R Treanor, L Kelly, J Slevin (1-0); N Lavery, D Byrne, E Graham; C Eccles (0-1), T O'Rourke (0-2); R Duffy, S Mooney (1-8, 0-5f), D McCaughey (0-1); D O'Reilly, M Hamill (0-1), N Rice (0-3). Subs: C Conlon (0-1) for D McCaughey, F Carolan for N Lavery, A McCaughey for S Mooney, T Keenan for E Graham, H McDonald for L Kelly.
Antrim - S Laverty; L Fleming, D McNicholl, C Donnelly; E Gough, P Ferris, C McGirr; E Quinn, D Doherty; R McQuillan (0-2, 1f), S Duffin (0-5, 4f), R McKillop; B McCafferty, A McErlean, C Higgins (0-1). Subs: E Dixon for R McQuillan, O Molloy for D Doherty, S Hinphey for B McCafferty, P Moyes for C Donnelly.
Referee - B McMenamin.
Most Read Stories