The manager's view: Roscommon's John Evans
June 12, 2013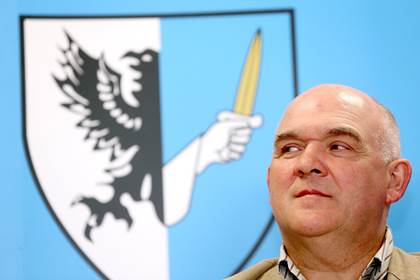 Roscommon manager John Evans ©INPHO/James Crombie
There's no doubting the sheer commitment and football passion of John Evans. Seen previously in his role with Tipperary Senior Footballers, Evans has brought a huge boost to Roscommon football this year, and makes the 580km round-trip from his Killorglin base in Kerry to Dr. Hyde Park on average three times a week, without a second thought - Gaelic Football is his passion, and this is what drives him.
It wouldn't be any different for someone from Kerry to be immersed in Gaelic Football - prior to his first inter-county assignment with Tipperary in 2008, he guided his club Laune Rangers to All-Ireland Club success, beating Carlow side Éire Óg in the 1996 decider, having previously helped the club to their first Kerry SFC title in 78 years back in 1989.
Following his resignation as Tipperary manager in March 2012, Evans joined up with Seamus McEnaney in Meath for the 2012 Championship, but last November he was handed the reigns in Roscommon for a two-year spell and he hasn't looked back since.
There was a firm bedding down period for Evans and his new charges - a sluggish start to the league, was replaced with a strong finish, but the over-riding message from Evans is that it's a two-year project and he doesn't expect everything to fall into place so quickly.
"As I keep saying. When the new management team was put in place, there were a lot of new faces in there and there was a bedding down period. There was a honeymoon period, there was a period of getting to know each other," Evans said.
"Once we got to know each other I would have said that we didn't perform that well early in the league, but certainly as we went on, and I think exactly at half way, at half-time in our fourth game of the league, there were three and a half games into it - for the next three and a half games since half-time in the Meath game we certainly turned it around and we won that half and we won the next three games in succession. We started to play with a bit of passion.
"We found out a few new players and I was delighted with the second half of the league. It was like chalk and cheese, it was just so much better and better quality. Of course in those three victories we won two of them away - against Cavan and Antrim, and the other one at home against Monaghan, who qualified, were the table-toppers and eventually won Division 3. Roscommon can rise to it, they can play, it's just about getting it together."
There were a few external factors which meant Evans didn't have a full group to focus on during the league.
St. Brigid's run to their first ever All-Ireland club title; injuries and the involvement of players in the Connacht Under 21 Championship meant that Evans initial months in charge haven't been the most straight forward.
The most annoying part of it all was the close proximity, by which the Under 21 players were made play games on successive days on two occasions - Connacht Championship on Saturday and then league games with the seniors the following afternoon. Something he came across and helped change in his time with Tipperary.
"I brought this up in Munster before. I approached the Munster Council and they were doing exactly the same as the Connacht Council are doing here and we moved games to Wednesday nights.
"It is grand for Galway and Mayo, they can put out their Under 21 teams and not be affected. It's not so good for Roscommon who don't have a big population, Sligo and Leitrim as well. It's unfair really and I think they should move those games to Wednesday night. It gives a chance for the Under 21 players.
"When we had St Brigid's involved and then four or five players injured, we were actually missing 11 players for the league. Then we had to use Under 21 players on the Saturday and again on the Sunday. If they had played on the Wednesday they would be fresh, there would be less chance of getting injury and a better performance from them on the Sunday.
"We had to do it twice in the league. On both occasions we had things in place, we had a Plan B. You have a Plan A and a Plan B and thankfully Plan A worked.
"It's grand for the management, the management can select a team, but the players need to know what they are doing. We had to take guys to the pool after games and get them doing stretching exercises.
"It's a lot for young guys. I would certainly say to Connacht that they should review it next year and move the Under 21 games to Wednesday nights."
Coming from Kerry, Evans needs no introduction as to what the cut and thrust of Championship football brings and the excitement generated around games. He's looking forward to a stint in the Western sphere and is excited about guiding a team in pursuit of Connacht Championship honours.
It begins with a semi-final date this weekend away to Mayo - a quick baptism for Evans in his new role.
"Any time you are going to be faced with Mayo in an away game, it's going to be a tremendous challenge. It's a huge challenge. I think all we can do is look after ourselves, we can't worry about Mayo.
"You will only be playing one team and that's number one. Number two is that we can only prepare as best we can. If we can give a good account of ourselves, then certainly I would be happy.
"I keep saying it, I'm here for two years, not for six months. I'm very happy with the way things are progressing. I'm very happy with how the players are responding. I'm more than happy with the way management are working and integrating with the panel and I'm extremely happy with the way the panel are integrating with the management."
The average age of the squad Evans has inherited from Des Newton is 23 and a half, but for the bulk of the panel there's already plenty of success. All-Ireland Minor titles, Connacht Senior, Under 21 and minor success and Sigerson Cup honours for eight of the squad - these guys are winners.
Evans believes that there's a very talented group at his disposal, and that the players can offer much more in the coming years.
"Absolutely. I would say to them the old story - 'hard work will always beat talent if talent doesn't work'. It's a sad indictment if you have talented players and they don't work hard enough to secure a win.
"At the same time I would have to say that Mayo are very talented themselves. There shouldn't be anything in it between the teams at the end of the day.
"At the end of the day we can only prepare as best we can."
Most Read Stories