Camogie: Meath lose out to Laois in Div 3 final
April 12, 2010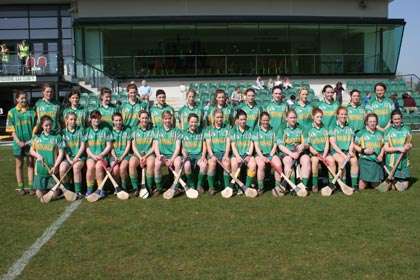 The Meath camogie squad that took on Laois in the National League Division 3 decider at Ashbourne.
National Camogie League Division 3 Final - played in Donaghmore/Ashbourne today Sunday 11th April 2010 at 3pm
Laois 2-10
Meath 2-5
Laois's second half goals prove decisive in their win over Meath in the National Div 3 League final in Ashbourne. Niamh Dollard & Eimear Delaneys quick thinking helped secure the league title for Laois.
Meath gave their Leinster Rivals a fight for it, with Jane Dolan & Elizabeth Lynch in attack who were always looking for the break ball and causing the Laois defense some headaches.
Both teams having meet earlier in the first round of the League, where Laois went home with a comprehensive win on the score line of 5-14 to Meath's 3-3, this did not stop Meath giving a good account of themselves on numerous occasions during the game.
John Davis can take some positive aspects from this final, a win would have certainly have helped his championship preparations, but with a lot of new and younger players on board this year, his team displayed some quality exchanges and encouraging paths of play in this final encounter.
It was Meath who were first on the score board with a pointed free from Jane Dolan this was followed shortly when Louise Mahony opening her teams account, their first score also a pointed free. Laois had a number of wides before Trish Cuddy, Louise Mahony & Sarah Anne Fitzgerald notched up three further points, a point a piece, all coming from play .
Meath were also guilty of a number of missed chances and as John Davis & his selectors shifted around a number of the Meath players during the first half to try and curtail the Laois attack these moves did help .
Meath's Aoife Maguire pointed in the 21st minute from a Jane Dolan pass and Elizabeth Lynch who came accross to goal from the corner flag put over a well taken point. This put two points between the teams.
Laois added another two points, Aine Mahony 0-1 & Sarah-Anne Fitzgerald 0-1, in as many minutes before the half time whistle. Score line Meath 0-3 Laois 0-7.
The second half opening exchanges from both sides were evenly matched, with both defenses doing well, Kristina Troy & Aoife Thompson proving their worth. They were also helped out on different occasions during the game by Edel Guy & Holly Geraghty.
Meath sigh's relieve when they were awarded a penalty in the 39th minute when Aine Keogh who was heading in on the Laois goal was brought down in the small square, Jane Dolan stepped up and got the opening goal of the game and put only a point between the sides.
Laois did not let this affect their play as the rallied and added three points coming from Sarah anne fitzgerald, Louise Mahony & Aine Mahony.
Meath's Central player Aileen Donnelly got more into the game & captain Louise Donoghue also worked hard. Elizabeth Lynch pointed from play before the critical blow came when Laois's Niamh Dollard sat waiting on the 15 meter line for the decisive pass that ended up in the back of the Meath net, Meath goalie Emily Mangan had no chance of stopping it. Meath did not give up a pressed hard for the remainder of the game. Louise Donoghue pointing gave some hope but this was short lived as Laois Eimear Delaney's quick thinking shot passed they Meath goalie for their second goal in the 53rd minute.
Meath reduced the difference with five minutes remaining when Sinead Hackett rocked the Laois defense with a well deserved goal and Meath should have reduced the difference even more as they hit three wides before the Antrim referee Owen Elliott blew the final whistle to give Laois the National League Division 3 Title.
Meath - Emily Mangan, Maire Keogh, Aoife thompson, Edel Guy, Holly Geraghty, Kristina Troy, Louise Donoghue 0-1, aine Keogh, Aileen Donnely, Fiona O'Neill, Aoife Maguire 0-1, Sinead Hackett 1-0, Elizabeth Lynch 0-2, Jane dolan 1-1, Lizzy Oaks. Sub Jenny Rispin for Fiona O'Neill
Laois - Laura Dunne, Rosemary Birmingham, Eimear Moynan, Brigie Cuddy, Maggie Hogan, Caitriona Phelan, Denise Quigley, Louise Mahony 0-4, Sharon Moylan, Sarah-Ann Fitzgerald 0-3, Elaine Mahony, Eimear Delaney 1-0, Aine Mahony 0-3, Trish Cuddy 0-1, Niamh Dollard 1-0. Sub: Olga Parkinson for Eimear Delaney.
Most Read Stories