Ladies: Fermanagh hit 0-14 on the bounce to bury Exiles
August 24, 2019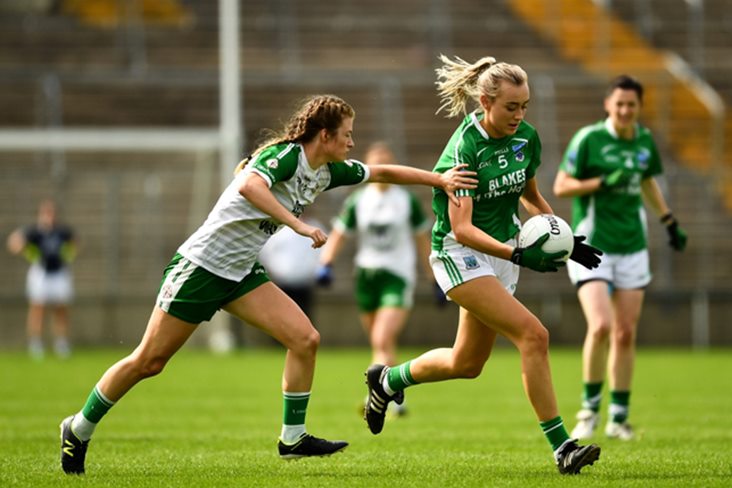 Molly McGloin of Fermanagh in action against London's Caroline McCarthy
Fermanagh 0-16
London 3-3
by Daire Walsh
Fermanagh survived a slow start and a nail-biting finish at St Tiernach's Park, Clones to book their place against Louth in the TG4 All-Ireland Junior Championship decider on September 15.
Trailing opponents London by two clear goals early in the opening half, the 2017 champions turned the screw with an astonishing 14 points without reply either side of the interval.
But London set up a frantic finale with a third goal from Catriona McGahan, before Fermanagh, inspired by Eimear Smyth, came out on top.
Exiles centre-forward Hannah Noonan had broken deadlock with a fine point on the run and the ex-Dublin star subsequently bagged a superb goal at the end of a blistering move on eight minutes.
Fermanagh eventually responded with a Smyth score, only to fall further adrift inside the second quarter.
Another attack initiated by Noonan led to a London penalty and Avril Kilkelly fired past Shauna Murphy.
Although the early signs were ominous for Fermanagh, the 23rd-minute introduction of skipper Joanne Donnan helped to ignite their challenge.
She immediately added a brace upon her arrival and with Smyth (two) and Aisling O'Brien also finding the target, they were a single point in arrears at 2-1 to 0-6 at the break.
Jonny Garrity's side carried this momentum forward into the second period, reeling off a succession of points to gain a firm grip on the proceedings.
After Blaithin Bogue split the uprights in superb fashion, Smyth edged the Erne county in front for the first time on 34 minutes. Bogue, substitute Aisling Woods and Smyth (free) inflicted further damage with unanswered points.
The impressive inside duo of Bogue and Smyth (three) then bolstered their already impressive personal tallies, giving the northerners a seemingly unassailable eight-point advantage, 0-15 to 2-1, in the process.
However, London never gave up and they pushed Fermanagh to the end. Caroline McCarthy, supplementing McGahan's 1-1 salvo off the bench, curled one between the posts to provide London with renewed hope.
They threatened on a couple of occasions for a fourth goal, but Smyth's ninth and final point of the tie was enough to get Fermanagh over the line.
Scorers - Fermanagh: E Smyth 0-9 (3f), B Bogue 0-3, J Donnan 0-2, A O'Brien, A Woods 0-1 each.
London: C McGahan (0-1f), H Noonan 1-1 each, A Kilkelly 1-0 (pen), C McCarthy 0-1.
Fermanagh: S Murphy; M Flynn, E Murphy, A McGovern; A Maguire, C Murphy, M McGloin; R O'Reilly, A Flanagan; N Connolly, B Bogue, D Maguire; A O'Brien, E Smyth, L Maguire. Subs: S McQuaid for McGloin (20), J Donnan for Flanagan (23), A Woods for Connolly (36), M Maguire for D Maguire (36-38, blood), S McCausland for O'Brien (39), D McManus for Bogue (58).
London: C O'Reilly; N Walsh, R Hunt, C Usher; C Twohig, N Lister, S Roche; N Daly, K Canavan; C O'Sullivan, H Noonan, C McCarthy; C O'Brien, A Kilkelly, F Morrissey. Subs: R Mills for Kilkelly (41), B Murphy for Canavan (43), C McGahan for O'Sullivan (48), N Cocoman for Roche (55).
Ref: Gerry Carmody (Roscommon).
Most Read Stories