Five FL finals worth looking at again
April 07, 2021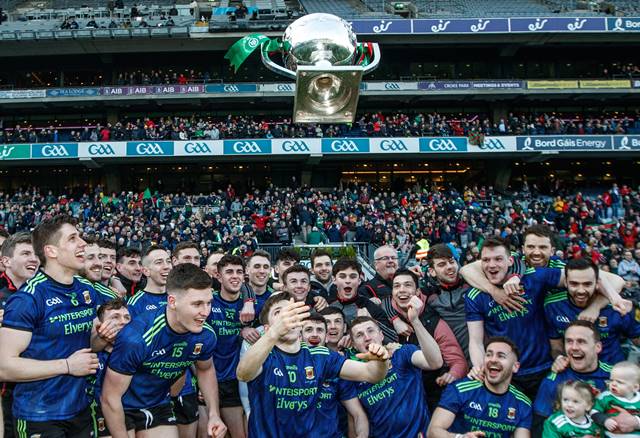 Mayo's Fergal Boland throws the Allianz League Division 1 trophy. ©INPHO/James Crombie.
We are into April which traditionally means we would have an Allianz Football League final to look forward to. That hasn't been the case for two years now but we have taken the opportunity to look back at five recent finals that are worth watching again.
2019 FL Final – Mayo 3-11 Kerry 2-10
A fantastic game and a great Mayo comeback when Kerry looked to be in a winning position. It was a hugely emotional affair for this Mayo group given all the disappointment they have suffered in All-Ireland finals over the last decade.
2017 FL Final – Kerry 0-20 Dublin 1-16
This seemed like a huge moment, a turning point in the rivalry between Kerry and a dominant Dublin. The Kingdom had lost the previous year's final by 11-points to the same opposition. The Dubs were two years into what turned out to be a six in a row All-Ireland run but Kerry's final victory in 2017 made us think that the Leinster men were vulnerable and Kerry the team to catch them. It wasn't to be but this was a scintillating game with a stunning finish.

2013 FL Final – Dublin 0-18 Tyrone 0-17
A match that seesawed between the two sides over 70 minutes plus and was the start of a four in a row of League titles for the Dubs. Deadlocked at the break, Tyrone led with three minutes left to play before Dublin rallied and a late refereeing decision proved crucial.
2011 FL Final – Cork 0-21 Dublin 2-14
Cork were reigning All-Ireland and League champions, on their way to a hat trick of Allianz FL crowns while Dublin were in the second year of life under Pat Gilroy. This was a stunning match which flowed from end to end, and little at the time did we think we were watching what was to become the start of a Dublin football dynasty.
2001 FL Final – Mayo 0-13 Galway 0-12
This was a Connacht rivalry like no other at the time as Mayo had suffered All-Ireland final heartbreak in recent years while Galway had landed the biggest prize in 1998. Mayo pulled a battling performance out of the bag to claim the title, again in the midst of huge emotion.
Galway looked down and out and when they lost a Connacht opener to Roscommon, the writing seemed to be on the wall. 2001 however was the first year of the new football qualifiers and by the end of September, Galway folk were smiling.
Most Read Stories