Cody "certain" Shefflin will return
September 07, 2010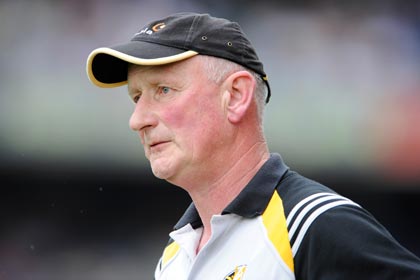 Kilkenny manager Brian Cody
Brian Cody is confident that Henry Shefflin will return to the Kilkenny colours next year.
A huge question mark hangs over the Ballyhale Shamrocks star's inter-county future after he lasted just 13 minutes of Sunday's All-Ireland final defeat to Tipperary, having carried a cruciate ligament injury into the game. He now faces surgery and is expected to be out of action until next summer.
However, Cody said he is "certain" Shefflin will come back from his latest injury setback.
"It's tough, it's brutal, it's terrible for Henry," the Kilkenny manager said.
"He's facing obviously a tough couple of months. But there's not a more driven or a more competitive sports person alive.
"Nobody has more passion for it and nobody has more drive for it and commitment and enthusiasm to be the best. He's the best and over a long period of time he's been right up there and kept himself up there and looked after himself massively.
"I know deep down in his heart of hearts he'll want to play in Croke Park again with Kilkenny. I would say that for certain. I would say that would be everybody else's desire that he will as well."
Cody believes the seven-time All-Ireland winner will do everything in his power to come back for at least one more season.
"The competitor that he is, he'll be thinking he'd love to play more," continued Cody. "I would be certain that Henry will fight tooth and nail to get back. He'll get every opportunity. Everybody will be wanting to see him back in action."
Cody denied that it was a gamble to start Shefflin who initially ruptured his cruciate knee ligament in the semi-final win over Cork. He pointed out that centre back John Tennyson had the same injury as Shefflin and came through the game unscathed.
"Any of the 30 or 34 or 35 players that played yesterday could have suffered a cruciate ligament injury going in perfectly healthy," argued Cody.
"It was never a question of taking a gamble."
Most Read Stories