Ladies previews: First of six finalists to be revealed
August 17, 2018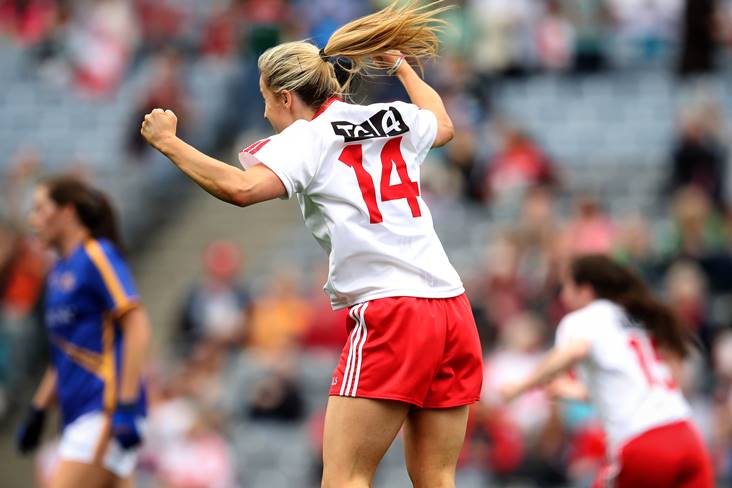 Tyrone's Gemma Begley celebrates a goal during the All-Ireland Ladies IFC final clash against Tipperary at Croke Park in 2017.
©INPHO/Ryan Byrne.
Compiled by Jackie Cahill
THE first of the six 2018 TG4 All-Ireland finalists will be revealed on Saturday, when Sligo and Tyrone battle it out for a coveted September 16 slot at Croke Park.
Fr. Tierney Park in Ballyshannon plays host to the first of the TG4 All-Ireland Intermediate semi-finals - a game that will be available to view LIVE on the LGFA's Facebook Page: https://www.facebook.com/LadiesGaelicFootball/
The winners will play Roscommon or Meath, who meet at Dr. Hyde Park on Saturday, August 25.
Elsewhere, the battle for survival is very much the name of the game this weekend.
Fermanagh and Longford will clash in the Intermediate relegation decider in Ballymachugh on Saturday before attention switches to the senior grade on Sunday, as Cavan and Tipperary meet to decide who will drop down to intermediate championship football for 2019. 
Saturday 18th August 2018
TG4 All Ireland Intermediate Semi Final- ET if Necessary
Sligo v Tyrone, 4.00pm, Fr. Tierney Park, Ballyshannon, Co Donegal
TWO counties who are no strangers to each other lock horns in the first of the 2018 TG4 All-Ireland Intermediate Semi-Finals.
Tyrone came out on top at the corresponding stage of the competition last year, winning out by 1-16 to 0-11.
But Sligo were competitive in that opening half, before conceding a goal to Niamh O'Neill on the stroke of half-time.
Tyrone eased to victory but Sligo will be confident of closing the gap as they prepare to face the Red Hands again, in a fixture that will be available to view LIVE on the LGFA's Facebook Page: https://www.facebook.com/LadiesGaelicFootball/
Tyrone were defeated by Tipperary in last year's All-Ireland final but are determined to go one better this time.
They've shown ominous form throughout the 2018 championship, comfortably winning the Ulster title before topping a qualifier group that also included Wicklow and Offaly.
At the quarter-final stage, Tyrone had the test they needed against a fine Wexford side, before booking their slot in the last four.
Sligo relinquished their Connacht title against Roscommon but recovered to top Group 1 of the qualifiers, securing victories over Laois and Longford in the process.
Those victories pitted the Yeats County against Wicklow in the quarter-finals, and they won out on a 4-13 to 2-13 scoreline, in what was a really entertaining game at the Gaelic Grounds in Limerick.
Katie Walsh was brilliant for Sligo with a 2-5 haul, with the returning Stephanie O'Reilly at centre forward pulling the strings.
Sligo: N Gormley; A Morrisroe, E Codd, C Dunne; G O'Loughlin, L Boles, K.A. Henry; S Regan, N Brennan; L.A. Laffey, S O'Reilly, S Naughton; E O'Reilly, K Walsh, D McGrath.
Tyrone: L Kane; N McGirr, J Barrett, C Conway; S McCarroll, C Hunter E Brennan; N Woods, E.J. Gervin; N Hughes, M Canavan, Á Canavan; G Rafferty, G Begley, C McCaffrey.  
TG4 All Ireland Intermediate Championship - Relegation Final - Result on the day     
Fermanagh v Longford, 1.00pm, Ballymachugh, Cavan  
In a winner-takes-all shoot-out in Ballymachugh, Fermanagh and Longford fight it out to avoid relegation from the intermediate championship grade.
For Fermanagh, defeat would represent a setback after they won the TG4 All-Ireland junior crown last year to gain promotion.
But the Erne County are staring at a swift return to the junior ranks, unless they can see off Longford on Saturday.
The Midlanders lost to Laois and Sligo in their qualifier group to finish bottom of the pile, and must now rouse themselves for a crucial fixture.
There's plenty of class in both ranks, with Eimear Smyth in the Fermanagh inside line a noted scorer, while Michelle Farrell is a key player for Longford at midfield.
With so much at stake, this one should be a keenly-contested encounter.
Fermanagh: D Owens; C Clarke, C Murphy, N McManus; E McGirr, S Hamilton, A Maguire; R O'Reilly, D Maguire; S Britton, B Bogue, D McManus; E Smyth, J Doonan, N McManus.
Longford: M Kilkenny; A Barry, L Keegan, A Noonan; A Cosgrove, M Moore, N Darcy; M Reynolds, M Farrell; T Lee, E O'Brien, M McManus; I Reynolds, S Reynolds, M Bannon.
Sunday 19th August 2018
TG4 All Ireland Senior Championship - Relegation Final- Result on the Day
Cavan v Tipperary, 1.00pm, Dolan Park, Virginia, Cavan
THIS is not where Cavan and Tipperary wanted to find themselves at the beginning of the championship season.
Two recent intermediate championship winners (Cavan 2013, Tipperary 2017) will now lock horns in a straight shoot-out to retain senior status for 2019.
This is a repeat of the Lidl NFL Division 2 final between the sides in May, when Tipp won to gain promotion to the top flight.
Tipp also had the edge when they visited Cavan in the group stages of the League campaign, and they won't fear another visit to the Breffni County.
This game was switched to Sunday to avoid a dual clash involving Tipperary star Orla O'Dwyer, and the Premier County agreed to play Cavan on Breffni soil.
They won't lack for motivation as they venture into the Lion's Den but Cavan will be anxious to make home advantage count.
Manager James Daly has made one change in personnel to the team that started against Monaghan last weekend, with Sinead O'Sullivan handed a start ahead of Lauren McVeety, who's named on the bench.
Tipperary manager Shane Ronayne has made three changes to his starting line-up, following defeat to Waterford last weekend.
Laura Dillon, Kate Davey and Sarah Everard drop out of the team, with Lucy Spillane, Emma Buckley and Roisin Howard drafted in.
Cavan: E Baugh; R Doonan, L Fitzpatrick, S Reilly; S Greene, G McGlade, S O'Sullivan; A Cornyn, D English; C Smith, A Maguire, C Dolan; A O'Reilly, A Sheridan, C Finnegan.
Tipperary: L Fitzpatrick; L Spillane, M Curley, B Condon; A.R. Kennedy, S Lambert, S Condon; A McCarthy, O O'Dwyer; E Buckley, A Moloney, N Lonergan; R Howard, M Morrissey, G O'Brien.
Follow all the action from Sunday's All-Ireland SHC and MHC finals on our live match tracker.
Most Read Stories