Ladies: "I think we let the players do the talking today"
July 16, 2018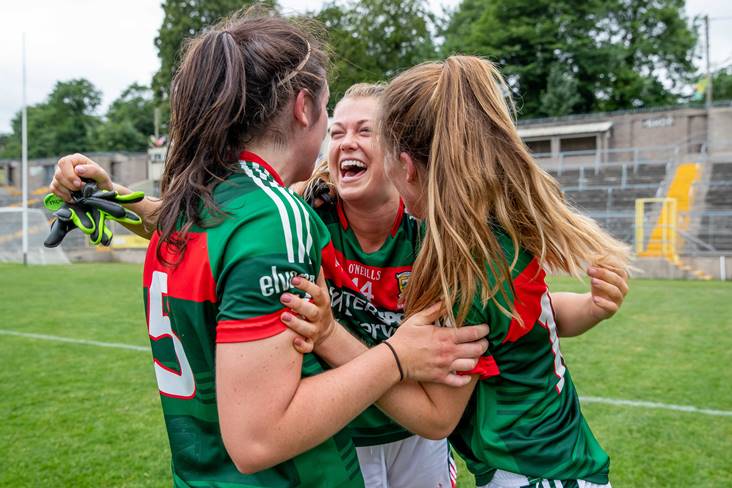 Mayo's Sarah Rowe celebrates with Rachel Kearns and Sarah Mulvihill.
©INPHO/Morgan Treacy.
By DECLAN ROONEY
Mayo manager Peter Leahy said he was not one bit surprised to see his team sparkle against Cavan in the TG4 ladies All-Ireland football championship and that his side did their talking on the pitch after a fractious week away from it.
Mayo laid down a stunning 60 minutes of attacking football where all but one point of their 3-23 came from open play, as last year's TG4 All-Ireland runners-up drew a line under the departure of 12 players from their squad in the build-up.
"To score 3-22 in a championship match from play, six different scorers. I don't think there is many times you'll say that in a championship match, especially with the emotional energy that was used all week. I think we let the players do the talking today," said Leahy.
"Our training on Tuesday and Thursday this week was just out of this world. I said if we could bring that into the game today...And that's what we talked about, we never talked about anything else, only perform like we are performing and everything takes care of itself. They all believe in themselves."
Mayo handed eight championship debuts to players in Clones, but it was the combined 3-18 from the full-forward line of Niamh Kelly, Sarah Rowe and Grace Kelly that gave them the Group 4 win.
Cavan - who face Dublin next Saturday - made the most of Mayo's all-out attack and hit goals from Donna English, Aisling Maguire, Catherine Dolan and Aisling Sheridan, but they fell well short in a 3-23 to 4-13 loss.
In the earlier game in Clones, Monaghan escaped with a 1-11 to 1-11 draw in Group 2 after Caroline O'Hanlon missed a last-gasp free for Armagh.
Blaithin Mackin's goal had pulled Armagh back into contention following a wayward display in front of goal during a first-half that saw Rosemary Courtney hit the net for an efficient Monaghan. Their manager Annmarie Burns was might relieved afterwards.
"We got away with it, we were very lucky," said Burns. "We would have banked on Caroline to score that free. It's a draw and we have to regroup this week and go to Cork and see how we get on."
Elsewhere, Kerry manager Eddie Sheehy says his players did him proud as they got their group off to a winning start against Tipperary at MacDonagh Park in Nenagh.
It was a dreadful start to the year for Kerry as they were relegated from the Lidl National League Division 1 after they had fielded an unregistered player in victory over Mayo.
Kerry lost their Munster crown to Cork, however Saturday's 3-13 to 2-10 win over Tipperary was the perfect start to Group 1.
Sarah Houlihan scored 2-3 while Andrea Murphy was on target with the other goal. And Kerry top the group before they face Donegal on 28 July. 
"We dug deep and it showed huge character in the team. After everything they went through in the year, getting relegated and everything," said Sheehy.
"It's brilliant. We have been working hard for this win. The girls themselves do deserve it. We are delighted with the win.
"We are out again in two weeks ago Donegal. Tipperary will give Donegal a good game. They are playing next weekend.
"We just wanted to come away with a good win. We know we are well able to play."
Meanwhile, Westmeath also took control of their own destiny with Leanne Slevin's late pointed free securing a 2-12 to 2-11 win over Waterford.
Westmeath manager Stephen Maxwell said he was thrilled with their start to the campaign after Laura Lee Walsh and Aoife Connolly scored the goals.
"There is potential for a quarter-final now. We have Galway next and we will start building for Galway on Tuesday night," said Maxwell.
"After Galway who knows what's on the other side of the draw. Hopefully we are looking forward to a quarter-final.
"It's just unbelievable, the girls were fantastic and they deserve all of the plaudits they are going to get this week."
RESULTS
Saturday July 14:
TG4 All-Ireland Senior Championship
Group 1, Round 1:
Tipperary 2-10 Kerry 3-13
Group 2, Round 1:
Armagh 1-11 Monaghan 1-11
Group 3, Round 1:
Waterford 2-11 Westmeath 2-12
Group 4, Round 1:
Cavan 4-13 Mayo 3-23
TG4 All-Ireland Junior Championship
Group A, Round 1:
Louth 3-17  Antrim 1-9
Group B, Round 1:
Carlow 2-9 Derry 1-11
Sunday July 15:
TG4 All-Ireland Intermediate Championship
Group 1, Round 1:
Sligo 2-12 Longford 0-8
Group 2, Round 1:
Tyrone 5-18 Wicklow 2-6
Group 3, Round 1:
Wexford 3-9 Kildare 1-6
Group 4, Round 1:
Meath 11-24 Fermanagh 2-6
TG4 All-Ireland Junior Championship
Group A, Round 1:
London 9-18 Kilkenny 2-2
Most Read Stories