IFC: Toher fires Trim to win
May 22, 2017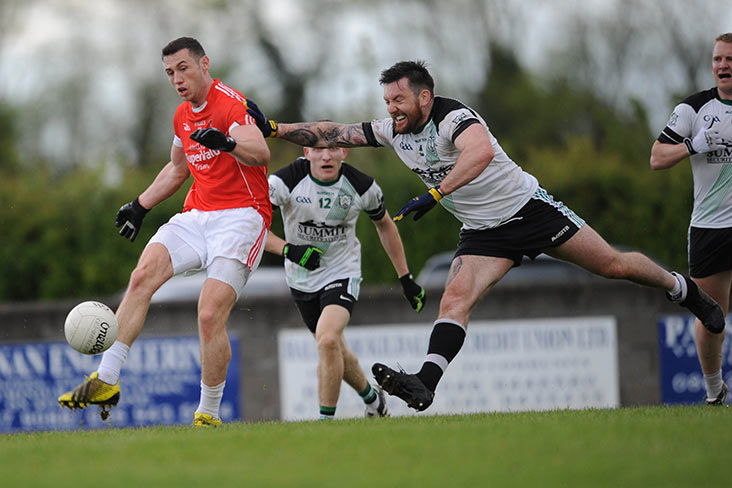 Trim's James Toher shoots as Mickey Burke Longwood closes in during the opening round of the Meath IFC at Kildalkey
Trim 0-18  Longwood 0-12
Full marks to the Kildalkey club who had their pitch and surrounding grounds in magnificent condition for this Intermediate football round one game between Trim and Longwood.
Unfortunately the rain started falling one hour before the game which left the pitch and ball very slippery and playing conditions difficult. Both sides met in round one at the same venue last year with the Trim lads running away with a twenty point victory. But another year and another game and a much improved Longwood side stood up to anything that the Trim lads threw at them on Saturday night and for a period of the second half had the red defence reeling on the ropes with four points on the trot is as many minutes.
Trim controlled the first half and with dominance in midfield through intercounty man Alan Douglas who directed proceedings and the hard working Robert Bourke were seven points ahead after thirteen minutes on a score line of 0-8 to 0-1. Neil Heffernan, Trim's prodical son, playing his first game for his side in 2017 after his intercounty hurling duty certainly justified his selection. He was on fire inside and fired over two points early on. Intercounty footballer James Toher also hit two while midfielder Robert Bourke hit one from play. Corner forward Daire Lynch was on target from play and a free and full forward Eoin McGrath found the mark in the sixteenth minute. The Longwood lads struck twice with points in the twentieth minute but James Toher hit his third point one minute later. The final nine minutes of first half play remained even stevens with both sides scoring three points each. Ciaran O'Rourke, James Toher and Neil Heffernan did the honours for the men in red. O'Rourke's point skimmed the crossbar with a point blank shot for goal. Thus the teams went in at half time on a score line of 0-12 to 0-6. The Trim side scored their twelve points consistently throughout the thirty minutes with no more than four minutes between any score but they failed to open up any significant gap on the resilient Longwood side who soaked up relentless pressure and counter attacked with effect.
On the turnaround the Trim lads showed intent with James Toher pointing after three minutes to increase the gap to seven. Longwood replied with a point but then the Reds went nine points up with two points from half forward James Cullen and one from Eoin McGrath. It appeared at this stage that the Trim side would move on and win comfortably but the men in black and white had no such thoughts. With a major resurgence they hit four points on the trot between the eighteenth and twenty first minutes to reduce the deficit to five points. It was a period where Longwood took complete control at midfield and had the Trim defence in disarray but substitute Nigel Duignan stemmed the bleed with a Trim point in the twenty fourth minute and the same player saved his side when he snatched a goal bound shot off his goal line shortly after. In the wind down to the final whistle Trim hit two points through Robert Bourke and a free from James Toher to Longwood's one point to leave the final score at 0-18 to 0-12.                
Best in defence for Trim were full back Luke Moran and wing back Ciaran O'Rourke while up from scorers had games of note.
The Trim scorers were James Toher 0-5 (1 frees), Neil Heffernan 0-3, James Cullen 0-3, Darryl Lynch 0-2, (1 free), Eoin McGrath 0-2, Ciaran O'Rourke 0-1, Nigel Duignan 0-1, Robert Bourke 0-1.
The Trim team was Niall Murray, Patrick Lennon Luke Moran, Rory McGrath, Ciaran O'Rourke, Shane Downes, Declan Dowling, Robert Bourke, Alan Douglas, James Cullen, James Toher, Sean Fitzgerald, Neil Heffernan, Eoin McGrath, Darryl Lynch.
The Trim subs were Nigel Duignan for James Cullen, Darryl Phelin for Sean Fitzgerald. Alan Carey, Ciaran Giblin, Conal McGrenra, Joe O'Donoghue, Paul Munnelly, Robbie Kenny, Alan Shine, Ryan Andrews, Richie Murphy, Peter Farrell, Eoin O'Connor, Ciaran Joyce, Stephan Doyle, Gerard Dwayne, Michael Cullen, Frankie Murphy, David Tobin, Sean McDonagh.
Most Read Stories