Top scorers: Heslin stretches his lead
March 20, 2017
John Heslin continues to set the pace at the top of the Allianz Football League scoring charts with 2-37 after five rounds.
©INPHO/Tom Beary.
John Heslin remains on course to be the Allianz Football League's leading scorer after getting into double figures once again yesterday.
The Westmeath sharpshooter's 0-10 against Wicklow in Division 4 has brought his overall tally to 2-37, which is an average of almost nine points a game. Dublin's Dean Rock is in second place with 0-34, while Conor Sweeney of Tipperary and Wicklow's Seanie Furlong occupy joint third spot with 2-27 and 1-30 respectively.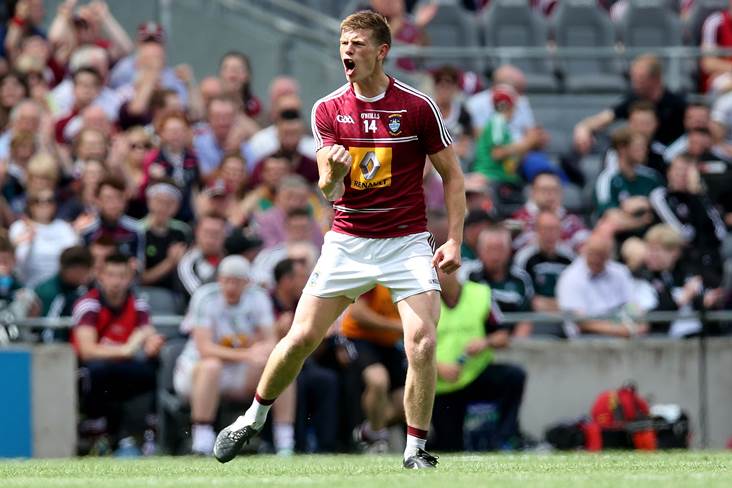 Westmeath's John Heslin.
©INPHO/Donall Farmer.
Overall league top scorers:
John Heslin, Westmeath 2-37 (43)
Dean Rock, Dublin 0-34 (34)
Conor Sweeney, Tipperary 2-27 (33)
Seanie Furlong, Wicklow 1-30 (33)
Paul Geaney, Kerry 3-22 (31)
Robbie Smyth, Longford 0-29 (29)
Paul Broderick, Carlow 3-19 (28)
Donal Lenihan, Meath 1-25 (28)
Division 1
Dean Rock, Dublin 0-34 (34)
Paul Geaney, Kerry 3-22 (31)
Cillian O'Connor, Mayo 1-22 (25)
Ciarain Murtagh, Roscommon 3-14 (23)
Jack McCarron, Monaghan 2-14 (20)
Gearoid McKiernan, Cavan 2-13 (19)
Conor McManus, Monaghan 0-18 (18)
Peter Harte, Tyrone 0-16 (16)
Ciaran Thompson, Donegal 0-16 (16)
Division 2
Donal Lenihan, Meath 1-25 (28)
Barry McHugh, Galway 0-22 (22)
James Kielt, Derry 0-21 (21)
Sean Quigley, Fermanagh 0-19 (19)
Eoin Cleary, Clare 0-18 (18)
David Tubridy, Clare 1-14 (17)
Neil Flynn, Kildare 0-17 (17)
Colm O'Neill, Cork 0-16 (16)
Division 3
Conor Sweeney, Tipperary 2-27 (33)
Robbie Smyth, Longford 0-29 (29)
Donie Kingston, Laois 2-21 (27)
CJ McGourty, Antrim 1-23 (26)
Ryan Burns, Louth 3-17 (26)
Stefan Campbell, Armagh 2-17 (23)
Nigel Dunne, Offaly 0-22 (22)
Adrian Marren, Sligo 1-18 (21)
Division 4
John Heslin, Westmeath 2-37 (43)
Seanie Furlong, Wicklow 1-30 (33)
Paul Broderick, Carlow 3-19 (28)
Rory Mason, London 1-23 (26)
Emlyn Mulligan, Leitrim 0-21 (21)
Paul Whyte, Waterford 1-16 (19)
Ben Brosnan, Wexford 0-18 (18)
Darragh Foley, Carlow 0-17 (17)
Patrick Hurney, Waterford 0-17 (17)
Goalscoring charts:
Paul Geaney (Kerry) 3
Ciarain Murtagh (Roscommon) 3
Keelan Sexton (Clare) 3
Emmett McGuckin (Derry) 3
Ryan Burns (Louth) 3
Michael Quinlivan (Tipperary) 3
Paul Broderick (Carlow) 3
Gavin Crotty (Waterford) 3
Gearoid McKiernan (Cavan) 2
Jack McCarron (Monaghan) 2
Cillian O'Sullivan (Meath) 2
Jamie Malone (Clare) 2
Niall Kelly (Kildare) 2
Ben McCormack (Kildare) 2
Tommy Moolick (Kildare) 2
Chris Healy (Kildare) 2
David Slattery (Kildare) 2
Eamonn Brannigan (Galway) 2
Shane Walsh (Galway) 2
Donie Kingston (Laois) 2
Larry Moran (Longford) 2
Niall Murphy (Sligo) 2
Stephen Coen (Sligo) 2
Stefan Campbell (Armagh) 2
Niall Rowland (Armagh) 2
Conor Sweeney (Tipperary) 2
Gary Plunkett (Leitrim) 2
John Heslin (Westmeath) 2
Kieran Martin (Westmeath) 2
Highest individual scores from each round:
Round 1
Paul Geaney (Kerry v Donegal) 2-4
Round 2
Cillian O'Connor (Mayo v Kerry) 0-9, Donie Kingston (Laois v Armagh) 1-6
Round 3
John Heslin (Westmeath v Leitrim) 1-11
Round 4
Conor Sweeney (Tipperary v Longford) 2-7
Round 5
Paul Broderick (Carlow v Waterford) 2-6
Overall highest individual score:
Round 3
John Heslin (Westmeath v Leitrim) 1-11
Most Read Stories