MFC Div 3: More silverware for Seneschalstown
October 19, 2015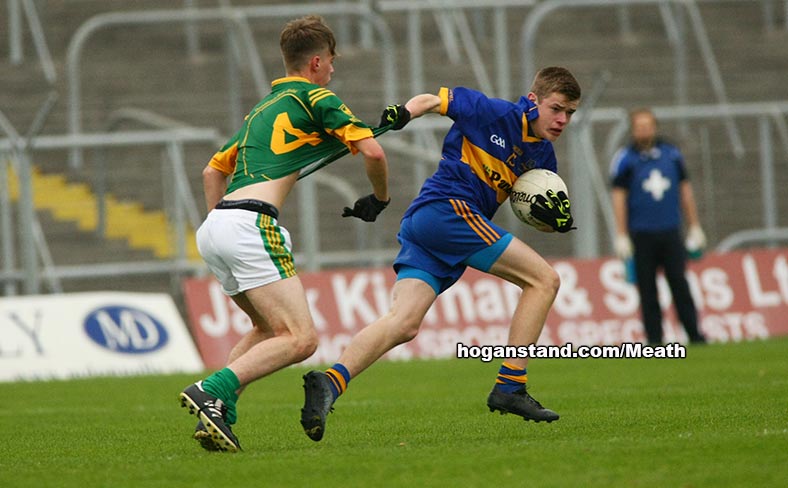 Adam Noone Duleek Bellewstown with Seneschalstown's Cathal Finnegan during the MFC Division 3 final at Pairc Tailteann.
Seneschalstown 1-14 Duleek/Bellewstown 1-05
Going into this Minor Final the aggregate score between these two sides from the games played between them earlier in the season saw Duleek/Bellewstown lead by 0-35 to 0-34.  With this in mind there was expected to be very little between the sides in this game played on Saturday afternoon in Páirc Tailteann.  But as events transpired the experience the Seneschalstown side have of playing in the county grounds stood to them as they appeared to be the more at ease when it came to playing in its wide open expanses. 
This particular side was playing in their fourth final in three seasons in Páirc Tailteann and with many of them having also been part of the clubs Junior B and D panels as well as captain Adam Carey who was on the Senior side they knew every square inch of the field and put this knowledge to great use as continually they pulled the Duleek/Bellewstown defence apart while creating space for their dangerous forwards to do damage.  Interestingly five of the starting six forwards are all underage next year with centre forward Ryan O'Dowd being the only one who now leaves the juvenile ranks. 
Indeed it's a hallmark of this Seneschalstown side that only seven of the side are overage for 2016 and a further three of the panel.  With four U-15's on the panel including two starters as well as three U-16's on the starting fifteen this is a side with rich potential for the future with many of them looking like they have bright futures in the Senior team. 
When these sides met in Round 1 of the Championship Duleek/Bellewstown raced into a ten point advantage by half time but on this occasion it was Seneschalstown who were quickest out of the blocks.  With just a minute on the clock Eoin Finnegan picked up the first point of the match when he sent over a forty metre free after a foot went in as Ryan O'Dowd went down to gather.  Cathal Finnegan who was to be a constant thorn in the Duleek/Bellewstown defence, in particular throughout the first half was next to register when he got on the end of a Robert Wogan free from under the shadows of the stand to point.  The aforementioned Wogan then extended the lead to three when he clipped over a free which was awarded after a foul on the hugely influential Niall Hickey and was then brought in further by referee Martin Griffin when he didn't' appreciate a comment made when the free was given. 
Duleek/Bellewstown managed to get off the mark with five minutes on the clock when Jamie Crosby sent over a thirteen metre free following a tug on a teammates jersey as he made his way towards goal along the end line.  The gap was soon down to one point when Aaron Seery sent over from play.  Robert Wogan brought the gap back out to two points after nine minutes when he sent over off his left foot after benefitting from a sumptuous dummy from Cathal Finnegan and goo link up play from Dylan Keating. 
Following this score Wogan was switched into full forward in a direct swap with Eoin Finnegan but it was to be Finnegans younger brother Cathal who hit the next score when after a good ball out of defence from David Fox he swung his trusty left boot and sent the ball between the posts.  The younger Finnegan was now thoroughly enjoying himself and just a minute later he sent over his third point when after selling a series of dummies he curled the ball over the bar. 
Seneschalstown were by now well and truly on top with the midfield platform provided by Niall Hickey and David Fox proving crucial.  On twenty three minutes the Finnegan axis provided Seneschalstown's seventh score of the match when Eoin pointed a free after Cathal drew the foul.  The move of the match was soon to follow when after Niall Hickey got on the ball in his own half he kick passed it upfield to Alan Mulvany who in turn picked out his Meath U-15 teammate Dylan Keating who then transferred it off to Hickey whose shot following a lung bursting run was tipped over by Richard Kearns in the Duleek/Bellewstown goal. 
Centre back and captain Adam Carey was next to register when after a scintillating burst upfield he sent over a point and then in first half injury time Cathal Finnegan hit his fourth of the half and unquestionably his best.  Gathering the ball when practically in the hospital car park he looked up, surveyed his options and when seeing his teammates all being tightly marked decided to attempt a shot from a seemingly impossibly narrow angle.  The youngster though had his angles measured to perfection as he split the posts to score the most beautiful of points. 
This left the scoreboard reading Seneschalstown 0-10 Duleek/Bellewstown 0-02 and the side in blue looking to be comfortably in the ascendancy.  Memories of the two clashes between the sides were still fresh in their memories though so while ahead they would have been very wary of the potential of a comeback from the side in green. 
To this end the opening score of the second half would be crucial and to the relief of the Seneschalstown supporters it was their side who managed to strike first.  When David Fox sent a searching ball into the right hand corner at the O'Mahonys end of the field Robert Wogan did well to gather possession.  Battling very hard to carry the ball infield he managed to engineer just enough space to fist over the bar.   On thirty five minutes Duleek/Bellewstown managed to get their first point in twenty eight when after they scooped up a stray ball out of the Seneschalstown defence Conor Hickey punished the error by pointing. 
This did not put the Boynesiders off their stride though and only seconds later after Adam Carey had battled hard to win a thirteen metre free Ryan O'Dowd's task of converting it was made immeasurably easier when it was moved infield and due to back chat and he made no mistake as he knocked it over.  Eoin Finnegan then hoisted a ball in from the left hand sideline towards Cathal Finnegan but when he could have gathered it and shot goal Cathal decided to attempt the spectacular and volley for goal only for the corner forward to miskick as he tried the spectacular. 
On thirty nine minutes Seneschalstown suffered a major blow when after consulting with his umpires Martin Griffin requested that Eoin Finnegan vacate the field of play.  His side nearly responded magnificently to this setback when Ryan O'Dowd found himself in on goal only for his goal effort to be smothered as he appeared to be dragged back, referee Griffin however adjudged there to be nothing wrong with the tackle and allowed play to continue.  The pacey Daire Corcoran was now introduced in place of the injury hampered Alan Mulvany as Seneschalstown looked to inject fresh legs into their attack. 
With the game approaching the end of the third quarter Duleek/Bellewstown were thrown a lifeline when they managed to pilfer a goal.  David Gordon who all day had been as secure under the high ball as a deposit in a Swiss bank appeared to be unsighted and when the ball ricocheted off his legs Duleek/Bellewstown managed to capitalise fully by flicking the ball into the back of the net.  Suddenly they had a man extra on the field and the gap down to six and anything seemed possible. 
Seneschalstown responded to this goal by switching Dylan Doyle with Niall Hickey, Doyle moving out to centre field and Hickey reverting to full back to mind the house.  Duleek/Bellewstown managed to further whittle their deficit down to five points when Jack Fitzpatrick pointed after forty six minutes but it was Seneschalstown who managed to grab the next score.  David Fox sent an intelligent ball in towards Robert Wogan and the sixteen year old exchanged a one two with the fifteen year old Dylan Keating before hoisting over a crucial point. 
Daniel O'Reilly who had gotten injured in the opening round game was now introduced and he had an immediate impact when with his first involvement in the action he was hauled back as he tried to burst through the heart of the Duleek/Bellewstown defence.  As Ryan O'Dowd picked up the ball to take the free he was instructed to bring it forward thirteen metres thanks to the referee receiving some verbals.  O'Dowd wasn't going to look a gift horse in the mouth and he made no mistake as he sent the free between the uprights.  Three minutes later O'Reilly managed to earn another free and when this one dropped short from O'Dowd, David Fox reacted quickest and became the most unlikely of goal scorers as for much of the week his participation in the game had been in serious doubt due to sustaining a knee injury. 
There was still time for more action in the game as with the hour just up Conor Cantwell went down off the ball and just as the umpires at the O'Mahonys end had picked out a Seneschalstown player earlier in the half the ones at the hospital end spotted what had happened and the Duleek/Bellewstown player singled out was also asked to leave the action.  Cantwell subsequently had to go to hospital but was allowed home late on Saturday night.  Three minutes of stoppage time were played and in that time Duleek/Bellewstown managed to eke out one further score from play.
That was to be all the action though and when the whistle went to signal the end of the match Seneschalstown were able to bask in the moment as a third Championship was secured for the club in the space of six weeks following on from the Junior D and B successes.  This particular side has now won League titles at U-16 and U-17 as well as this Minor Championship.  Over the hour of the game they had superb performances from Dylan Doyle, Colin Walsh, Adam Carey, Niall Hickey Robert Wogan and Cathal Finnegan while ably assisted by each and every one of their teammates who took to the field. 
With a talented group of players coming through the future of Seneschalstown looks to be in safe hands.  Many of these players have featured on Meath Development Panels with many more having Junior Championship medals from earlier in the year.  These will now be treated as stepping stones towards progression to the Senior team and challenging for Keegan Cup success. 
Seneschalstown:  David Gordon, Ruairí Keogh, Dylan Doyle, Richard McKeown, Colin Walsh, Adam Carey (0-01), Conor Cantwell, David Fox (1-00), Niall Hickey (0-01), Alan Mulvany, Ryan O'Dowd (0-02, 0-02 Frees), Robert Wogan (0-04, 0-01 Free), Cathal Finnegan (0-04), Eoin Finnegan (0-02, 0-02 Frees), Dylan Keating.
Seneschalstown Substitutions:  Daire Corcoran for A. Mulvany, Louis Healy for R. McKeown, Sean Carey for C. Finnegan, Shane Mulvany for R. Wogan, Daire Finnegan for C. Cantwell.
Most Read Stories