IFC: Nobber impress as Cortown swept aside
April 25, 2015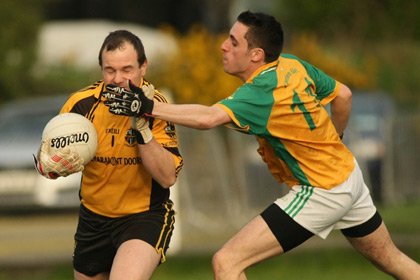 Nobber keeper Chris O'Reilly with Brian Smith Cortown during the Meath IFC game at Carnaross
Nobber   2-10   Cortown 0-5
Nobber produced another solid performance to outscore a game Cortown outfit in this 2nd round Championship match.
Cortown put in a major effort in the first half but still found themselves 2 down at the break.
That was as good as it got for them with Nobber completly dominating affairs in the 2nd period holding them scoreless.
Cortown where first to score when pointing in the 4th minute but Dean Halpin replied for Nobber with a 6th minute goal.
Further scores from Sean Meade, Brian Farrell 2 and Jamie Owens saw Nobber lead 1 05 to 0 05 at the break.
Whatever chance Cortown had were diminished when Owens goaled for Nobber on the restart.
A further 5 points from Brian Farrell and 1 from Niall Farrell consolidated Nobbers supremecy and saw them win
comfortably 2 10 to 0 05.
Best for Nobber were Jamie Owens, Brian Farrell, Sean Meade, Pauric Weldon, Alan Farrell,Colin Clarke,Brendan Heffernan,Brian Meade.
Nobber Scorers: Brian Farrell  0-7, Jamie Owens 1-1, Dean Halpin 1-0, Sean Meade 0-1, Niall Farrell 0-1
Nobber: C O Reilly, P Weldon, B Meade, C Halpin, B Heffernan, R Shields, B O Reilly, A Farrell, C Clarke, D Halpin, B Farrell,
N Farrell, F Mc Entee, J Owens, S Meade. Sub: Gavin Farrelly for Halpin
Cortown Report
Nobber 2-10 Cortown 0-5

The concession of two scrappy goals at the beginning of each half proved costly for the Junior champions as Nobber ran out easy winners in the end.

The game which was originally fixed for Pairc Tailteann but was moved during the week to Carnaross to rest the Navan pitch. In all due respect it was like being told you were going to be playing Old Trafford but then having it moved to somewhere like Stoke on a cold, wet Tuesday night.

A sizeable crowd made the short trip from both sides to see this clash between two teams who had impressive first round victories two weeks ago. Cortown were once again without the services of Gary Coyne through injury and Tommy Smith who was suspended. 

Cortown playing with the aid of that breeze made a good start with the returning Glen Loughran fit again after his hamstring injury curled over a beauty with his right boot after a hectic start to proceedings. Nobber responded in some style as a lapse in the Cortown backline gifted Nobber a simple goal which was an early body blow for the men in yellow.

Cortown hit back though as the monstrous midfielder Richie Flanagan was rugby tackled to the ground and Ryan O'Rourke found his range to raise a second white flag of the afternoon. The game was a ferocious encounter as every ball was keenly contested with space and time at a premium. 

Hamstrung Brian Smith did ever so well to gain possession and he offloaded to David Rispin who fired over to give Cortown a much needed lift. He got a second soon after with almost a replica of his first as this time Loughran did well before offloading to Rispin who did the rest and Cortown supporters made themselves heard.

Cortown had Dudley Farrell's charges on the ropes as Loughran curled over brilliantly to reduce the deficit to a solitary point and you could see Cortown had the North Meath side reeling. The backs were working hard along with the midfield with Smith fielding superbly whilst the youngest and oldest players on the Cortown 15 in Rispin and Loughran were causing plenty of problems. Nobber tagged on a late score to go in two in front at the break, 1-4 to 0-5.

Cortown had to start the second half with purpose you'd have felt but did the opposite as another scrappy goal went in just after the restart as Nobber reacted quickest to the ball bouncing off the upright and suddenly the Junior champions had a mountain to climb! With the wind in their faces, it was backs to the wall as Cortown had to cling on for dear life with some last gasp defending from the overly worked defenders.

Nobber is fairly much a Farrell-filled affair these days with Dudley in charge and sons Alan, Niall and the enigmatic Brian leading the way. However, in young Sean Meade and Fiachra McEntee Nobber have a pair of potentially deadly corner forwards capable of winning any match at this level.

The dominance of Nobber was clear to see as Brian Farrell in his usually deadly form from the placed balls helped pull the Intermediate contenders clear. Cortown just couldn't get anything going as they huffed and puffed but could only yield a few half chances. It was a similar game to the league game between the teams in the league a couple of months ago as Nobber ran away with it second half but an 11 point beating probably was a little harsh on Cortown.

It was ultimately a disappointing evening but Cortown know that two more wins will be enough to get through the group. There's now a month to prepare for a crucial clash against St Michaels at the end of May with Junior C championship to come and a few rounds of league which Cortown need results in starting on Thursday with Castletown coming to Cortown. It's a disappointing end to a nine match unbeaten run in the championship but Cortown will be back, better and stronger!

Cortown: John McFadden, John McGearty, Paddy Kerrigan, Declan Clarke, Colm Kerrigan, Daniel Murphy, Stephen Clarke, Daragh O'Halloran, Richie Flanagan, Ryan O'Rourke (0-1f), Brian Smith, Brian Faulkner, Kevin McGuiness, Glen Loughran (0-2), David Rispin (0-2). Subs: John Casserly for Faulkner, Brian Casserly for Smith.
Most Read Stories