SFC: Comfortable win for Seneschalstown
August 30, 2014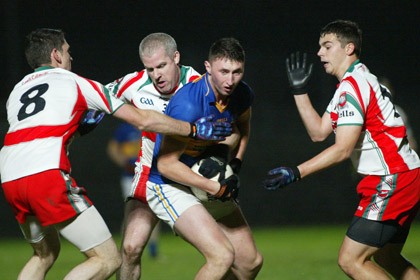 Seneschalstown's Sean Noonan with Cormac Reilly, Robbie Flanagan and Aaron Brown during the hoganstand.com Meath SFC game at Pairc Tailteann.
Hoganstand.com Meath Senior Football Championship Group B Round 5
Seneschalstown 4-15
Gaeil Colmcille 2-06
A very busy weekend for the club got off to the brightest possible start for Seneschalstown on Friday evening when they had a surprisingly comfortable victory over Gaeil Colmcille in Páirc Tailteann.  With the outcome of this match known long before the final whistle attention in the Commons Road venues stand switched to events in Simonstown and Ashbourne to see how the two other Group B matches were progressing.  As word began to filter through that Navan O'Mahonys were defeating Walterstown it soon became apparent that Seneschalstown would be coming third in the group and thus secure a preliminary quarter final against the team which finishes third in Group C. 
Seneschalstown's captain Joe Sheridan was the first player to register on the evening when reacting quickest to a poorly struck Bryan Clarke free and kicking the ball over his left shoulder to point.  The excellent link up play between these two players which has been in evidence all summer during the league matches was once again to the fore when they team in blue struck for a goal in the ninth minute.  Joe Cowley set off on an adventure from his full back berth and from in front of the Seneschalstown dugout sent a diagonal ball in the direction of Joe Sheridan.  Although marked by three Kells defenders Sheridan managed to flick the ball on to Clarke who had stolen in unmarked behind the defence.  Clarke, lethal in these positions made no mistake as he buried the ball past the goalkeeper at his near post. 
Meath U-21 star Seamus Mattimoe opened his sides account in the twelfth minute from a free out on the right hand side but this was to be as good as it got for his side in the opening half as from there until Brendan Darby's half time whistle Seneschalstown took control. 
Just after Mattimoe's point Gary Conlon got in behind the Kells defence after being played in by Brian Sheridan and finding himself one on one with Justin Carry Lynch opted for his point instead of going for goal.  Gaeil Colmcille suffered a blow at this stage of the game and were forced to make a substitution when wing back Paul Tormay had to leave the field injured.  Brian Sheridan then kicked a free over the bar after some excellent tackling by James Meade forced his opponent into over carrying the ball.  The intense tackling from the Seneschalstown forwards was putting the Gaeil Colmcille defence under severe pressure and it was from a Joe Sheridan enforced turnover that Seneschalstown got their next score when Meade pointed to leave his team a goal and four points to a solitary point in front after sixteen minutes. 
Conlon, after opting for a point earlier on instead of going for goal made sure to raise the green flag a minute later when finishing to the net after Joe Sheridan once more won a long ball in, this time after a long ball from Robert Ruddy.  The influential full forward then kicked his second point of the match after yet more impressive tackling from his forward colleagues forced another turnover.  Ruddy and Damien Sheridan were enjoying a dominant spell at midfield at this point and were dominating the aerial exchanges and it was courtesy of this solid platform that Seneschalstown's next score was to arrive.  Ruddy soared highest into the floodlit sky to claim possession and upon landing spotted the flying wing forward Conlon.  Conlon carried the ball forward before offloading to the supporting Meade who under pressure squeezed his effort inside the left hand upright for his second point of the half. 
Joe Sheridan extended his side's advantage with another point after being placed for the score by Conlon before the pair exchanged roles with Conlon's shot dropping out of the clouds to land on the roof of the Kells net.  Brian Sheridan then pointed off the outside of his right boot from a sideline ball before his elder brother Damien pointed from play.  With his side firmly on top James Byrne galloped forward on the overlap out on the left wing and when getting possession from a Clarke handpass made no mistake to put his side sixteen points to the good.  It was one of those halves when everything they touched turned to gold for the Yellow Furze men and further evidence of this was provided when a speculative high ball on the stroke of half time into the square from Damien Sheridan was fumbled into the goal by the Gaeil Colmcille goalkeeper. 
The men from the heritage town to their credit came out after half time and picked off the first two scores of the half.  Brian Hanlon pointed with seventeen seconds on the clock after David Lyons had come off his line to force the centre forward to go for his point rather than a goal.  Oisín Reilly dis register a goal for them when finishing to the net after Gerry Sheridan had blocked out the initial effort. 
Whatever slim hopes they had of a comeback for Gaeil Colmcille were extinguished when Joe Sheridan pilfered his side's fourth goal.  After Niall Groome had forced his opponent to play the ball over the sideline Damien Sheridan played a quick one two from the resultant line ball.  Sheridan then delivered a long ball into Clarke who after gaining possession delivered a teasing ball between the goalkeeper and his full back.  While both appeared to hesitate slightly Sheridan sneaked in and with the merest of touches flicked the ball into the goal. 
Hanlon pulled a point back from a long distance free before Sheridan kicked a sumptuous long range point from play.  Shortly after this point Gaeil Colmcille were reduced to fourteen men after Cormac Ferguson was sent to the line on the advice of the umpire who had spotted an off the ball incident with one of the Seneschalstown substitutes who had only just come on to the field.  Clarke kicked a fourteen metre free after forty eight minutes before the Kells side got their second goal of the match, this one coming from half time substitute Martin Barrett. 
Clarke kicked two frees in a row either side of a fine double save by Justin Carry Lynch from Ross Howard and Niall Lyons before four points from placed balls by Brian Hanlon, three frees and one forty five, closed out the evenings scoring. 
By now though attention in the stands had largely switched to finding out how events in Ashbourne and Simonstown were going.  With word coming through on Twitter that Navan O'Mahonys were in the ascendancy against Walterstown, the Seneschalstown support could relax in the knowledge that their passage into the preliminary quarter final was secured.  The result from Ashbourne was now largely inconsequential for both of the teams in action in Páirc Tailteann but Dunshaughlin late comeback ensured that they leapfrogged Walterstown into fifth place on score difference and consequently the men from the South Meath town avoided the relegation battle. 
Seneschalstown can now look forward to the remainder of a bust weekend for the club safe in the knowledge that progression to the knock out stages of the championship is secured once more and this should add to the festival atmosphere at Saturday's Festival of Football, while then on Sunday it is over to the ladies team as they seek to secure a place in this year's county final when playing Na Fianna in Fr. Tully Park. 
Seneschalstown Scorers:  Joe Sheridan 1-04, Bryan Clarke 1-03 (0-03 Frees), Gary Conlon 1-02, Damien Sheridan 1-01, James Meade 0-02, Brian Sheridan 0-02 (0-01 Free, 0-01 Sideline), James Byrne 0-01.
Seneschalstown: David Lyons, Gerry Sheridan, Joe Cowley, Niall Groome, Mark Carey, Paul Carey, James Byrne, Robert Ruddy, Damien Sheridan, James Meade, Brian Sheridan, Gary Conlon, Ciaran Macken, Joe Sheridan, Bryan Clarke. 
Seneschalstown Substitutions: Sean Noonan for C. Macken, Niall Lyons for R. Ruddy, Niall McCabe for G. Sheridan, Ross Howard for G. Conlon. 
Gaeil Colmcille Scorers:  Brian Hanlon 0-06 (0-04 Frees, 0-01 Forty Five), Oisín Reilly 1-00, Martin Barrett 1-00, Seamus Mattimoe 0-01 (0-01 Free).
Gaeil Colmcille:  Justin Carry Lynch, Liam Ferguson, Robbie Flanagan, Cormac Ferguson, Barry Tormay, Mickey Foley, Paul Tormay, Keith Reilly, Cormac Reilly, Oisín Reilly, Brian Hanlon, Alan Hickey, Stephen Reddy, Seamus Mattimoe,  Henry Barry.
Gaeil Colmcille Substitutions:  Danny McGovern for P. Tormay, Martin Barrett for C. Reilly, James Reilly for Barry Tormay, Aaron Byrne for Stephen Reddy
Most Read Stories