IFC: 'Bracks' have 3 to spare over 'Micks'
August 18, 2014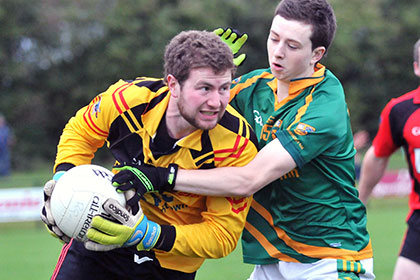 Ballinabrackey's Evan Daly puts pressure on St Michaels keeper Paul McCormack during the Meath IFC game at Trim.
Ballinabrackey 0-10
St Michaels 0-7
Ballinabrackey put in a huge and well deserved win in the Intermediate championship over a St Micheal's team who were also eyeing a quarter final spot on Saturday evening in a wind swept Loman's Park, Trim.
Scores were hard to come by in the opening half and both teams had chances which they failed to convert. After the Micheal's went ahead 0-02 to 0-01, Ballinabrackey were dealt a severe blow when wing forward David Finn was shown a straight red card by referee Richard Morris. The linesman brought the incident to the attention of Morris and Finn got his walking papers. However, this seemed to fire up the Bracks and they went on to finish that half ahead by 0-04 to 0-02.
The second half was a similar affair with scores at a minimum and with the Ballinabrackey defense under pressure after numerous attacks from the Micheal's it was looking like this was going to be anyone's to win. Micheal's did begin to find their feet once more and chipped in some fine scores to not only level but take the lead 0-06 to 0-04. Yet the Bracks seemed to have a bit more in the tank with Nicky judge leading from the back the Micheal's found it tough to break through a swarmed final third. Damien Carroll was dominating proceedings round the middle and with Chris O Connor immense at the break down Ballinabrackey pushed on. The went on to lead 0-09 to 0-07 with time up, Damien Carroll decided to take the point when awarded a penalty with the last kick of the game to finish the scoring and give the Bracks a well deserved 0-10 to 0-07 win.
Next up is a winner takes all game with local rivals Longwood in two weeks time
Ballinabrackey: G Crehan, M Kearney, D Flynn, K Darby, D Kennedy, N Judge, P Loftus, C O'Connor, D Carroll, S Curry, A Munnelly, D Finn, E Daly, T Bannon, V Mooney. Subs: D Thompson, K Coyne, F Bannon, G Bannon, B Byrne, K Swords, P Lee, A Quinn, M Kavanagh, A Gannon.
ST. MICHAELS REPORT
Ballinabrackey were slightly the better side in a hard fought but pedestrian opening half of this intermediate championship match in Trim on Saturday evening last. St. Michaels who lined out without four of their regulars will rue their tally of eight wides in that opening half while playing with a very strong wind to their backs and with a one man advantage.
St. Michaels got off the mark first with a point from Peter O'Connell on two minutes, neither side troubled the scoreboard operator again until the 14th minute when Ballinabrackey sent over their opening point. A minute earlier they had their no 12 David Finn receive his marching orders and this incident seemed to have lifted his side somewhat as they fired over 3 more points to just one from O'Connell for St. Michaels and by half time Ballinabrackey having played against the wind and with a man down from the thirteenth minute were 0-4 to 0-2 ahead at the interval.
Scores were also hard to come by in early stages of the second half but St. Michaels started well and a point from Kevin Cassidy from play and a converted free from Ciaran Lynch on 42 minutes had the sides on level terms, St. Michaels were now enjoying their best spell of the match and a minute later O'Connell sent over his third point to put his side in front, Gary Dolan made it a two point lead on 44 minutes, but Ballinabrackey replied immediately with their opening point of the second half to reduce the deficit to just one, David Lynch restored the lead to two points on 47 minutes but that transpired to be his sides final score of the match.
Damien Carroll and Chris O'Connor ruled the roost around the middle third and as Ballinabrackey deployed as many as 10 players in their own half to stub out any possible attack from St. Michaels they slowly but surely picked off their points to level matters on 52 minutes, they went two up on the hour mark and when Paul McCormack fouled in his own square in the 33rd minute, the Brack's could afford to tap the resultant penalty over the bar for a deserved victory.
St. Michaels team & scorers: Paul McCormack, Mark Stafford, Jamie Reilly, Daithi Reilly, Robert Briody, Philip Rogers, Matthew Halpin, Peter O'Connell 0-3, David Lynch 0-1, Ronan Cassidy, Kevin Cassidy 0-1, Gary Dolan 0-1, Oran Meehan, Ciaran Lynch 0-1, Ronan Lynch.
Subs: Johnny Reilly for Oran Meehan 30 minutes, Darren O'Connell for Paul McCormack BC 63 minutes.
Referee: Richard Morris.
St Michaels Report and photo Pascal Reilly.
Most Read Stories