SFC: Second-half goals seal Simonstown win
August 17, 2014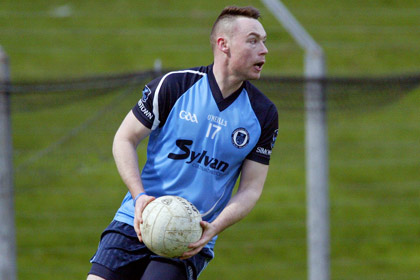 Simonstown's Stephen Moran
Wind-assisted Simonstown overturned a double scores interval deficit to outscore Seneschalstown in this hoganstand.com SFC Group B fixture at Pairc Tailteann on Sunday afternoon.
Simonstown 3-13
Seneschalstown 1-10
Playing into the town goal Simonstown wasted little time in erasing that four-point deficit when notching up 1-2 within two minutes of the restart to regain the which they maintained to the end.
Sean Tobin was the provider for that trio of score. First, Nathan O'Brien pointed within 20 seconds of the restart. A minute had barely elapsed when the prolific Padraig McKeever pointed. Just over 100 seconds had gone when top scorer Andrew Carney flicked to the net to leave it 1-6 to 0-8.
Simonstown didn't let up and Carney was prominent as they increased their lead. The first of Stephen Moran's two second-half goals moved the 'Gaels five points clear, 2-7 to 0-8, by the 41st minute. Tobin had a hand in this too, as did Mark McCabe and O'Brien.
The energetic Carney took scoring honours for Simonstown with 1-5 as the north Navan side registered their fourth win over the campaign. Moran's brace of goals left him second in the scoring stakes while McKeever finished with four points from play.
Seneschalstown's first second-half score arrived in the 47th minute when Ciaran Macken netted when placed by Joe Sheridan to round off a fine team move. It halved the deficit and left just a goal in it, 1-8 to 2-8.
Simonstown responded positively to outscored Seneschalstown by 1-5 to 0-2 in the latter stages. Moran's second goal arrived in the 55th minute when he flicked to the net from a McKeever pass at the end of a move started by Shane O'Rourke.
Sub Sean Noone went close to pulling a goal back for Seneschalstown. Ultimately those three second-half goals proved decisive.
What ever favours the blustery conditions offered, Seneschalstown had them in the opening half. However, it was Simonstown who were quicker off the mark with a Padraig McKeever point into the hospital goal inside 15 seconds.
Seneschalstown posted as many wides in the opening four minutes before getting on terms through Brian Sheridan. Simonstown hit back with two scores in quick succession. Padraig McKeever's second was a peach of a point. Things got even better when Sean Tobin landed a free for the north Navan side.
A poorly hit Brian Clarke free was turned over the bar by Joe Sheridan for Seneschalstown's second score. The response at the opposite end was another Tobin pointed free that left it 0-4 to 0-2 to Simonstown after nine minutes.
The pendulum swung Seneschalstown's way over the remainder of the half as Damien Sheridan senior's men reeled off six points on the spin. Another Clarke free got this sequence going. He quickly followed with another to leave it 0-4-each after 12 minutes.
With Brian and Damien Sheridan bossing midfield, Seneschalstown kicked on to register four second quarter scores. The biggest cheer of the half came in the 13th minute in response to a Joe Sheridan point that gave the Yellow Furze the lead for the first time.
A minute later an excellent Robert Ruddy effort from distance doubled Seneschalstown's lead The scoring rate dropped in the second quarter. James Byrne got in on the scoring act in the 23rd minute with Mark Carey providing the assist. In the last act of the half Brian Sheridan posted a close range free and it was 0-8 to 0-4 at the interval.
Simonstown resumed with the aforementioned scoring blitz that provided the platform for their fourth win of the campaign. While they look forward to a place in the knockout stages, Seneschalstown are part of a congested chasing pack and face Gaeil Colmcille in round five.
Simonstown - Ronan Duffy; Niall McMahon, Eanna Donoghue, Colin Wickham; Mark Gardiner, Joe Lyons; Niall Kane; Shane O'Rourke; Shane Barry; Sean Tobin (0-3 fs), Padraig McKeever (0-4), Stephen Moran (2-0); Nathan O'Brien (0-1), Mark McCabe, Andrew Kearney (1-5, 0-2fs). Subs - Declan Gaffney for O'Brien (48), Wayne McCarthy for McCabe (56).
Seneschalstown - David Lyons; Niall Groome, Paul Carey, Sean McCabe; Mark Carey, James Byrne (0-1), Niall McCabe; Brian Sheridan (0-3,2fs), Damien Sheridan; Robert Ruddy (0-1), Ciaran Macken (1-0), Gary Conlon; James Meade, Joe Sheridan (0-3), Brian Clarke (0-2fs). Subs -Sean Noone for N McCabe (47), Joe Cowley for Byrne (52), Niall Lyons for Macken (54).
Referee - Brendan Darby (Ballinabrackey)
***
Seneschalstown report:
Hoganstand.com Meath Senior Football Championship Group B Round 4
Simonstown 3-13 Seneschalstown 1-10
Following a mid-season break of ninety one days Seneschalstown resumed their Hoganstand.com Meath Senior Football Championship campaign in a blustery Páirc Tailteann on Sunday afternoon. With three points out of a possible six so far and their opponents Simonstown with the maximum victory was required to keep their hopes of coming in the top two in the group and thus secure direct passage into the quarter finals. However, while they led by double scores, eight points to four at half time these ambitions were blown off course as Simonstown hit them with a whirlwind display in the second half to eventually emerge victorious by nine points, 3-13 to 1-10.
The men from the Proudstown Road were the first to register a score when after Shane O'Rourke carried the ball forward from the throw in Padraig McKeever got on the end of a pass from the county player and pointed. Seneschalstown hit back three minutes later when Brian Sheridan equalised after a good move involving his brother Damien, Ciaran Macken and James Byrne. In response to this early equaliser Simonstown picked off two points in a row courtesy of McKeever again and a converted free from Sean Tobin.
Joe Sheridan looked to steady the ship for his side when getting a fist to a Bryan Clarke free to divert the ball over the bar following a foul on James Meade. Simonstown though responded with a second free of the match from the accurate Tobin. Clarke then kicked two frees in a row from the thirteen metre line as the long ball into Sheridan began to reap dividends, the full forward being fouled for both. Sheridan then picked off his second point of the game when after Mark Carey had intercepted a stray ball in defence it was worked upfield and in spite of the presence of two markers Joe fired over the bar from thirty metres to push his side into the lead for the first time in the match.
Robert Ruddy, operating today at wing forward then kicked a booming effort between the posts from way out on the left as he took full advantage of the wind. Seneschalstown sensed that a goal would be a fantastic boost and in the seventeenth minute Sheridan rattled the bar with a bullet of an effort before Clarke had his follow up effort blocked and Simonstown managed to eventually clear the danger. James Byrne, often good for a point, stretched the Seneschalstown advantage to three in the twenty third minute when after a patient build up started when Bryan Clarke forced a turnover in the Simonstown defence. A fallow period of another seven minutes followed before a pointed free from Brian Sheridan brought the first half scoring to a close with Seneschalstown in the ascendancy on the scoreboard by four points but question marks as to whether that advantage would be enough as they would have to play against the elements in the second period.
In their recent league match against Skryne Seneschalstown were hit with the body blow of conceding a goal and two points in the opening minutes of the second half and today Simonstown repeated the dose. After twenty two seconds the lively corner forward Nathan O'Brien scored his sides first score in twenty three minutes and less than a minute later his point was added to by another from McKeever after his team had won the kickout. This blitzkrieg continued apace when straightaway a long ball into the Seneschalstown square caused much confusion and Andrew Kearney capitalised on this confusion to flick the ball past David Lyons and immediately wipe out the Seneschalstown half time advantage and send the Gaels a point ahead.
Kearney kicked a free after thirty nine minutes, the free awarded for a pull on a forwards jersey before Stephen Moran goaled after getting on the end of a sweeping move through the heart of the Seneschalstown defence. Another free from Kearney stretched the Simonstown lead out to six before Ciaran Macken handed the now struggling Seneschalstown a lifeline when flashing a shot past Ronan Duffy to narrow the margin between the teams to three. Mackens' goal coming after a brilliant team move started by a short kick out from Lyons to Mark Carey, Carey worked the ball to James Meade who then found Joe Sheridan, now playing out the field, who passed to Macken to score.
The response from the team clad in sky blue though was impressive and three points in four minutes, including Tobin's third free of the match following the goal took their advantage back out to six.
Seneschalstown tried their best to launch a comeback and they did give themselves some hope when kicking two points in the fifty third minute. Brian Sheridan notched another free before Joe kicked a superb left footed effort under pressure. However, Simonstown were in no humour to be denied and kicked a goal and two points from play to end the second half in the same manner as they had started it in. The goal was the first of these scores to arrive as once more the ball was carried through the centre of the Seneschalstown defence before Moran flicked in his second major of the match after getting on the end of a pass from McKeever. The centre forward then turned from provider to finisher when pointing before Kearney finished off the scoring with his sides thirteenth point of the match.
Seneschalstown will be very disappointed with how the game ran away from them in the second half and must now regroup in advance of their Round 5 game against Gaeil Colmcille which they need to win to guarantee avoiding being dragged into a relegation dogfight.
Seneschalstown Scorers: Ciaran Macken 1-00, Joe Sheridan 0-03, Brian Sheridan 0-03 (0-02 Frees), Bryan Clarke 0-02 (0-02 Frees), Robert Ruddy 0-01, James Byrne 0-01.
Seneschalstown: David Lyons, Niall Groome, Paul Carey, Sean McCabe, Mark Carey, James Byrne, Niall McCabe, Brian Sheridan, Damien Sheridan, Robert Ruddy, Ciaran Macken, Gary Conlon, James Meade, Joe Sheridan, Bryan Clarke.
Seneschalstown Substitutions: Sean Noonan for N. McCabe, Joe Cowley for J. Byrne, Niall Lyons for C. Macken.
Simonstown Gaels Scorers: Andrew Kearney 1-05 (0-02 Frees), Stephen Moran 2-00, Padraig McKeever 0-04, Sean Tobin 0-03 (0-03 Frees), Nathan O'Brien 0-01.
Simonstown - Ronan Duffy, Niall McMahon, Eanna Donoghue, Niall Kane, Mark Gardiner, Joe Lyons, Conor Wickham, Shane O'Rourke, Shane Barry, Sean Tobin, Padraig McKeever, Stephen Moran, Nathan O'Brien, Mark McCabe, Andrew Kearney.
Simonstown Substitutions - Declan Gaffney for N. O'Brien, Wayne McCarthy for M. McCabe.
Most Read Stories