Leinster club SFC: Summerhill win in Drogheda
November 10, 2013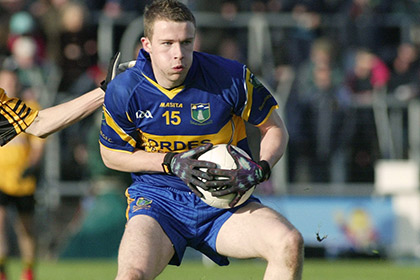 Summerhill's Barry Dardis
Summerhill (Meath) 2-13
Newtown Blues (Louth) 1-13
Summerhill advanced to the last four of the Leinster Club Championship when they came from behind to overcome Louth champions, Newtown Blues, in Drogheda on Sunday afternoon.
The game turned in the opening ten minutes of the second half when the visitors grabbed 1-5 without reply. During that spell the Blues failed to take advantage of two goal chances and thereafter were facing an uphill battle.
The Louth side did get back to within two points but were unable to produce the goal needed to snatch victory and Summerhill held out.
In what turned out to be an entertaining and open contest, it was the Meath men who opened the scoring on two minutes. However, the Blues levelled soon after before Brian Kermode got on the end of a high ball to score the first goal of the game.
The home side added a point before Summerhill scored 1-2 without reply, thanks to a fine goal from Adrian Kenny and points from Brian Ennis and Paul Rispin, to lead by 1-4 to 1-2 after 18 minutes.
The Blues then responded in impressive fashion and kicked the final five points of the half to lead by 1-7 to 1-4 at the break, with Colm Judge and Robert Carr particularily prominent in attack.
However, the game was turned on its heads in the third quarter as Summerhill began to dominate midfield through the impressive Michael Byrne. The side managed by Declan McCabe kicked five points, three of them from Byrne, and two fine efforts from Seanie Dalton and Barry Dardis, before adding a second goal to lead by 2-9 to 1-7. The goal came from a short Newtown kick-out to Stephen Moonan who saw his pass intercepted before Rispin hit the net for the Meath men.
During that spell, the Blues were also creating chances but Robert Carr and Brian Kermode couldn't convert goal opportunities.
With the help of points from Colm Judge, the Blues gradually got back within range and with five minutes to play trailed by just 2-12 to 1-13. However, they couldn't complete the job as the Meath men added the final point to secure victory.
Summerhill: Tony McDonnell; Padraig Jennings, Caolan Young, Willie Ryan; Padraig Geraghty, Alan Lyons, Stephen Husband; Conor Gillespie (0-1), Micheal Byrne (0-3); David Larkin, Brian Ennis (0-5), Adrian Kenny (1-0); Paul Rispin (1-1), Sean Dalton (0-2), Barry Dardis (0-1). Subs: Ray Hatton for Jennings, David Dalton for Husband, Kevin Ryan for Rispin.
Newtown Blues: Conor Barton; Andrew Tinley, Thomas Costello, Niall Costello; Stephen Moonan 0-1, Eoghan Judge, James Murray; Keith Lynch 0-1, Brian Kermode 1-0; John Kermode 0-1, Hugh McGinn 0-2, Andy McDonnell; Colm Judge 0-6, Barry Sharkey, Robert Carr 0-2. Subs: Darren Moore for J Murray, Conor Brannigan for E Judge, Derek Kierans for J Kermode.
Most Read Stories