IFC: Carnaross caught by late Syddan scoring spree
May 05, 2013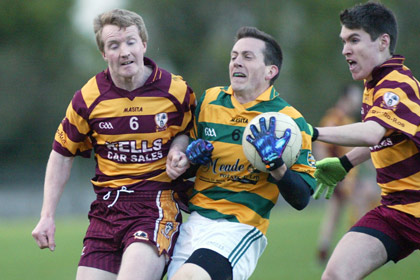 Paddy Nugent (Carnaross) and Syddan's Cormac Rowe go shoulder to shoulder as Peter Carpenter closes in during the Meath IFC game at Meath Hill
Carnaross 0-12
Syddan 0-14
A late five point blitz from Syddan in the final ten minutes denied Carnaross of what looked likely to be their opening victory of the Meade Potato Co. IFC.
Syddan had the advantage of a strong breeze in the first-half, but it was Carnaross who started best and led 0-3 to 0-1 after fifteen minutes. Ollie Murphy opened the scoring with Dermot McGee and Stephen Flattery adding a point each. Syddan battled back to level matters with two points from play. John L McGee edged Carnaross back in front but Syddan replied with two points to take the lead. Syddan had a late goal chance which hit the upright but the sides went in level at the break on 0-5 each after Charles Brogan equalised in the closing stages.
Carnaross started well after half-time and points from the McGee brothers, John L and Dermot, put them two up. Both sides then exchanged two points each with Ollie Murphy and Charles Brogan hitting the target for Carnaross to keep them two in front. Syddan then had the chance to take the lead but their goal attempt came back off the post but they pointed the rebound to leave just one point in it. Carnaross hit back and scored two quick points through Patrick Nugent and Dermot McGee to leave them three in front with ten minutes remaining. Syddan pointed once more but a point from Ollie Murphy left them three points up with four minutes of normal time remaining. However, the game then turned in favour of Syddan who levelled matters one minute into added time. Momentum was now with Syddan who went on to take the lead. They were then awarded a penalty in the closing stages which they put over the bar to seal victory over an unlucky Carnaross side who scored all their points from play.
Carnaross: Cillian Comaskey; Ian Donoghue, Thomas Nugent, John Plunkett; Peter Carpenter, Patrick Nugent (0-1), Eamonn Comaskey; Michael Brogan, Charles Brogan (0-2); Stephen Flattery (0-1), John L McGee (0-2), Shane Casserly; Dermot McGee (0-3), Ollie Murphy (0-3), John Carpenter; Subs: Brian Comaskey for Eamonn Comaskey; Peter Mullan for Shane Casserly; Peter S. Farrelly for Dermot McGee.
Most Read Stories