SFC: Donaghmore Ashbourne secure second spot
September 10, 2012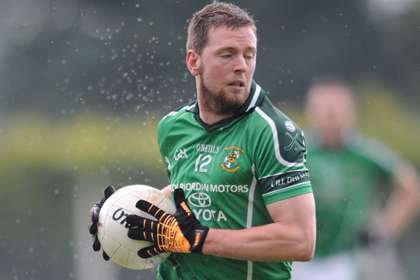 Donaghmore Ashbourne's John Broderick
Donaghmore Ashbourne 2-15
Nobber 1-10
Donaghmore Ashbourne overcame the disappointment of their 4th round defeat to St. Patrick's to record their 4th win of the group stages with a win over Nobber in Rathkenny on Saturday evening. The win gives Donaghmore Ashbourne the second spot in a closely contested Group A championship table.
The opening quarter was a tight encounter as both sides tried to gain control of the game. Donaghmore Ashbourne's opening points came from Kevin Lanigan, Eric Callaghan and Ciaran Beirne while Nobber's opening score came from play with two further points coming from frees. Andrew Tormey settled Donaghmore Ashbourne's nerves when he fired to back of the net and a Paul Gilligan free had Donaghmore Ashbourne 1-04 to 0-03 ahead at the end of the first quarter.
Nobber did reduce the deficit to three points with a point early in the second quarter but points from Tormey and Beirne on 18 and 23 minutes had 5 points between the teams again. Donaghmore Ashbourne benefited from a bit of lady luck on 25 minutes when a long range effort from Lanigan fell short and the ball deceived the Nobber keeper who could only palm the ball in the path of Cathal Field who fired to the empty net from close range.
The sides traded scores late in the half with Nobber pointing from play on 28 minutes and Paul Gilligan replying for Donaghmore Ashbourne a minute later. Nobber did register the final score of the half with a 25 meter free on the half hour.
Playing down the hill in the second half Donaghmore Ashbourne had a number of chances early on but failed to raise the white flag while the opening score of this period came from a Nobber free on 35 minutes. Donaghmore Ashbourne had registered 4 wides before Eoin Reilly fisted a point on 39 minutes. Two further fisted points from John Broderick and Iarlaith O'Donnell on 41 and 45 minutes extended Donaghmore Ashbourne's lead.
Donaghmore Ashbourne continued to keep the scoreboard ticking over in the final quarter with an Andrew Tormey free on 46 minutes, and points from play by Gilligan on 49 minutes and Callaghan on 50 minutes.
The sides traded scores with Nobber breaking easily through the Donaghmore Ashbourne's defence on 51 minutes and Tormey replying with a free on 52 minutes. Nobber did finish the stronger of the two sides with a goal and two points in the closing minutes with Andrew Tormey registering the final score of the match on 59 minutes.
Having secured 2nd spot in the group A table Donaghmore Ashbourne now go on to play St. Peter's Dunboyne in the quarter final of the competition.
Donaghmore Ashbourne: A. Colgan; I. O'Donnell (0-1), B. Menton, J.P. Casserly; C. Ellis, E. Riordan, P. Gilligan (0-3) (1f) ; R. O'Connor, K. Lanigan (0-1) ; J. Broderick (0-1), E. Callaghan (0-2), E. Reilly (0-1); C. Beirne (0-2), A. Tormey(1-4) (1f), C. Field (1-0),
Subs: None Used
Most Read Stories