IFC: Michael's qualify in style
September 03, 2012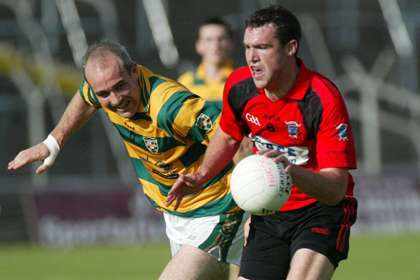 St Michael's Felim O'Reilly gets away from Syddan's Stephen Dillon during the Meath IFC game at Pairc Tailteann.
TO VIEW A SELECTION OF PHOTOGRAPHS FOR THIS GAME CLICK HERE
St. Michaels 1-18
Syddan 0-12
St. Michaels booked themselves a place in the business end of the Meade Potato Co Intermediate championship with this comprehensive nine point victory over Syddan in Pairc Tailteann yesterday afternoon.
St. Michaels laid the foundations for this win in the opening half going in five points up at the break as the young legs on the team exploited the wide open space of Pairc Tailteann and used it to their advantage with their attacks on goal coming from more angles than their opponents could stop and with 10 players getting on the scoresheet and only three of those scores coming from frees speaks volumes for this team whose average age of the starting fifteen yesterday was just 22 years.
Syddan opened the scoring with a point in the first minute which was quickly cancelled out with a Ciaran Lynch point, Felim O'Reilly added a second a minute later but Syddan levelled the match in the sixth minute but some astute defending from Mark Stafford, Philip Rogers, Ronan Cassidy, Patrick Clarke and Sam Briody contained the Syddan forwards holding them scoreless for the next 18 minutes, meanwhile at the opposite end of the pitch David Lynch 0-2, J.B. O'Reilly 0-2, Felim O'Reilly 0-2, and a sublime point from Patrick Clarke put St. Michaels 0-9 to 0-4 ahead at the interval.
Sam Briody and David Lynch opened the second half scoring with a point apiece, Syddan opened their account in the second half with three points to leave it 0-11 to 0-7 in favour of the winners after 40 minutes. St. Michaels however controlled the midfield area throughout and as Syddan's goalkeeper launched long kick-outs into the winners half back line St. Michaels still managed to win all the clean and breaking balls with ease as the O'Reilly brothers John Barry and Felim together with John & James Farrell and the roving Ciaran Lynch smothered any attack their opponents tried to set up. Daithí Regan's introduction at the interval also played a key part in this win as it was his goal on 54 minutes after receiving an excellent pass from Jamie Farrelly that put this game in the bag. He added a further two points as did David Lynch 0-3, Kevin Cassidy, Peter O'Connell and Ben Farrell 0-1 each. St. Michaels finished with 14 players as Sam Briody took an early shower after receiving his second yellow card. St. Michaels now play Na Fianna in their last match in the group next weekend.
St Michael's - Paul McCormack, Philip Rogers, Mark Stafford, Ronan Cassidy, Patrick Clarke 0-1, Sam Briody 0-1, James Farrell, John Barry O'Reilly 0-2, Felim O'Reilly 0-3, Ciaran Lynch 0-1, John Farrell, David Lynch 0-5, Ronan Lynch, Jamie Farrelly, Kevin Cassidy 0-1. SUBS….Daithí Regan 1-2, for Ronan Lynch, Ben Farrell 0-1 for Jamie Farrelly, Peter O'Connell 0-1 for Ciaran Lynch.
Referee….Joey Curley, Moynalty.
Most Read Stories