IFC: Win keeps Longwood safe
August 10, 2011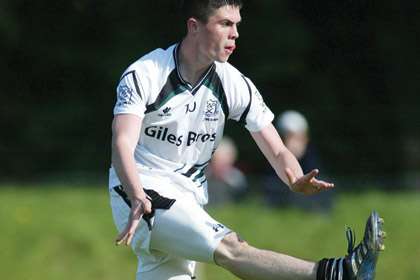 Longwood's Ryan Keenan
Longwood 0-11
Cortown 0-10
Longwood got the win they needed to stay up when got the better of Cortown at Athboy on Sunday last.
The half time score was 0-6 to 0-4 in favour of Longwood and points from Rory Maguire, Sean Sheridan and Aaron Ennis saw out the win after the break.
Those to play well were Jim Mahon, Ryan Keenan, Eoin Lynch, John Cullinane, Sean Sheridan, Aaron Ennis, Anthony Healy, Ray Dorran and Rory Maguire.
Longwood - Darragh Maguire, James Colgan, Vinnie Byrne, Ciaran Greene, Jim Mahon, Eoin Lynch, Ryan Keenan. Mick Weir, John Cullinane, Sean Sheridan 0-2, Damien Healy, Aaron Ennis 0-2, Anthony Healy 0-1, Ray Dorran 0-1, Rory Maguire 0-5. Subs - Chris Lynch for Weir, Enda Dixon for Colgan.
Most Read Stories