IFC: St. Michaels turn in fine display
August 09, 2010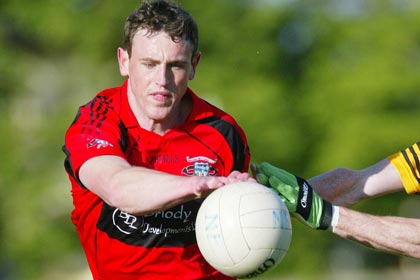 St Michael's John Barry O"Reilly
Sunday Aug. 8th 2010
Intermediate Championship, Group B. 
St. Michaels 1-16
Longwood 0-6
Played in Athboy.       
Half time St. Michaels 1-10, Longwood 0-4.    
St. Michaels turned in their best display of the year when the easily overcame Longwood to reach the semi-finals of the intermediate championship in this rather one-sided match played in sunny Athboy on Sunday afternoon last.                                                                                                 
St. Michaels controlled midfield due mainly to John Barry O'Reilly who foraged for the ball throughout the match and capped his performance with a fine individual goal in the 25th minute to add to his three previous first half points. Daithi Regan, Ciaran Lynch ( 0-2 each ), Peter Clinton Ronan and Kevin Cassidy ( 0-1 each )  were the other first half scorers for St. Michaels who led 1-10 to 0-4 at the break. 
Longwood who had already qualified for the knock out stages prior to this match did not register their first score of the second half until the 58th minute by which time Daithi Regan, Ciaran Lynch ( 0-2 each ) Philip Rogers & Ben Farrell ( 0-1 each ) had put St. Michaels out of sight. St. Michaels who were reduced to 14 men in the dying minutes of the match when full back James Farrell was dismissed on a straight red card will now face the winners of  Gaeil Colmcille and Carnaross in the semi-final. 
ST. MICHAELS
Paul McCormack, Philip Rogers 0-1, James Farrell, Daithi Reilly, Sean Gaffney, Derek Flood, Peter Clinton 0-1, Brendan Ryan, J.B.O'Reilly 1-3,  Robert Briody,  Daithi Regan 0-4, John Farrell 0-1, Ronan Cassidy 0-1, Ciaran Lynch 0-4, Kevin Cassidy 0-1.                                                                        
SUBS: Ben Farrell 0-1 for John Farrell, John Farrell for Peter Clinton.
BEST FOR ST. MICHAELS
J.B. O'Reilly, Daithi Regan, Peter Clinton, Sean Gaffney, Derek Flood & Kevin Cassidy.            
PASCAL REILLY PRO
Most Read Stories