Ladies: Historic win for Murroe Boher
November 29, 2014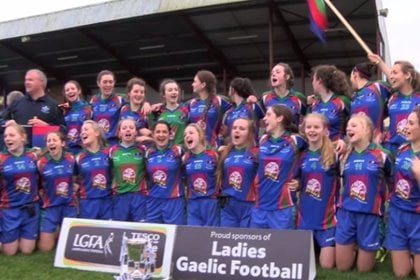 Murroe Boher of Limerick with the TESCO Homegrown All-Ireland JFC club trophy ©Jerome Quinn Media
Murroe Boher (Limerick) 3-11
St Ciaran's (Roscommon) 1-1
It was a famous day for the newly formed Murroe Boher of Limerick who produced a devastating display to win the TESCO Homegrown Junior All Ireland Club Final at the expense of St. Ciaran's of Roscommon.
A near flawless first half for the Limerick club set them on their way as they settled the contest before the half time whistle thanks to goals from Michelle Norris and Lisa Leonard. Much of the dominance of the Limerick club was established in midfield where Shauna Ryan and Niamh Richardson immediately seized the match by the scruff of the neck as both players scored early points. Norris struck for goal after 12 minutes as her speculative effort went directly into the St. Ciaran's net and was immediately followed by a point from Claire Keating. Lisa Leonard then piled the pressure on St. Ciaran's as she finished brilliantly to the net when put through by Claire Keating. Shauna Ryan scored another point for Murroe before St. Ciaran's replied with their first score of the match, a badly needed goal from Aoife Bandon, right on the stroke of half time to give hope to the Roscommon club.
However that hope was short lived as Lisa Leonard effectively ended the match as she grabbed the ball after a scramble on the goal line and finished to the net from point blank range. From then until the final whistle it was a procession for the champions elect who continued to rack up the scores with only a soul point from St. Ciaran's Rachel Fitzmaurice in reply. The last score of the match came from the boot of Murroe substitute Keely Lenihan to seal a 3-11 to 1-01 victory for the Limerick club.
It was a very difficult day for St. Ciaran's who were overwhelmed from the first whistle but they had good performances from goalkeeper Paula Daly and Rachel Fitzmaurice. There were superb performances all over the pitch for the Murroe side with corner backs Aoife Meaney and Saoirse Barry at the heart of an excellent defensive display along with dynamic wingback Kathryn Fahey who also popped up with a point of her own and Louise Crowley who played a captain's role at centre half back. Grainne Regan and Claire Keating lead the forwards well with Michelle Norris particularly impressive at wing forward. However, it was at midfield that this match was won where Shauna Ryan was a fantastic presence alongside the deserved Player of the Match Niamh Richardson.
Murroe-Boher - A Barry, A Meaney, S O'Connor, S Barry, A Regan, L Crowley (capt), K Fahey (0-1), N Richardson (0-2), S Ryan (0-3, 2 fs), M O'Meara, G Regan (0-2, 1 f), M Norris (1-0), L Leonard (2-0), C Keating, A Russell. Subs: R O'Malley for Barry, A O'Brien for Leonard, A Russell (0-1) for Lenihan.
St. Ciaran's - P Daly (capt), A Crean, N Connolly, S Crean, H Ennis, S Fitzmaurice, C Whyte Lennon, N Brandon, R Brennan, A Beades, E Daly, C Brennan, L Fleming, A Brandon (1-0), R Fitzmaurice (0-1). Subs: A Crean for Ní Chumhall.
Most Read Stories