Donegal get the cream
January 30, 2013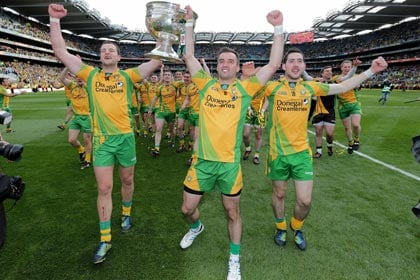 Donegal's Michael Murphy and Karl Lacey and Mark McHugh celebrate with the Sam Maguire INPHO
The good news keeps coming for Donegal who are celebrating again after signing a new three-year sponsorship deal with Donegal Creameries.
The All-Ireland champions last night launched the sponsorship deal which will be performance related.
"It is a very good deal we believe for a team like Donegal. We are quite happy with it," chairman Sean Dunnion told The Irish Daily Star.
"We have had a great relationship with Donegal Creameries and we see it as very good for the promotion of the games in Donegal.
"We are very marketable at the minute being All-Ireland champions. But we are a county on the periphery when you look at it and we haven't a huge amount of industrial employers in the current climate.
"It would be a performance related deal."
Niall O'Donnell, sales manager for Donegal Creameries, said: "We are delighted to be in a position to continue our sponsorship of Donegal GAA, which brought such glory and pride to the county in 2012.
"We are hoping 2013 will be equally as successful."
Most Read Stories