Oak Leaf troops unveiled
February 03, 2010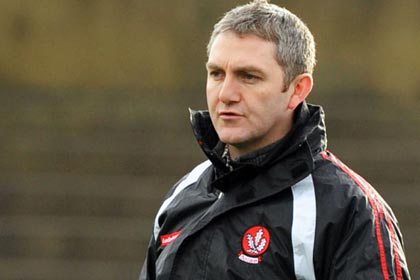 Damien Cassidy
Damien Cassidy has unveiled his 32-man Derry squad for the 2010 national football league.
There are seven players included who have not previously appeared in the league: Declan Mullan, Mark Craig, Charlie Kielt, Ciaran Mullan, Martin Dunne, Andrew McCartney and Michael Bateson.
The quintet of Barry Gillis, Séan Leo McGoldrick, Barry McGoldrick, Kevin McGuckian and Enda Lynn return after being excused from the McKenna Cup.
Full back Kevin McCloy is left out but should return for the championship, while Enda Muldoon and Colin Devlin miss out due to injury. Paddy Bradley will sit out the first two rounds with an ankle problem but has been included by Cassidy.
Derry - 2010 NFL Panel: B Gillis, M Dunne, B Og McAlary, M Craig, M McGoldrick, D McBride, B McGuigan, L Hinphey, G O'Kane, Charlie Kielt, K McGuckian, B McGoldrick, Ciaran Mullan, S L McGoldrick, N McCusker, M Bateson, F Doherty, Patsy Bradley, J Diver, A McCartney, B Mullan, R Wilkinson, James Kielt, M Lynch, E Lynn, Declan Mullan, Eoin Bradley, Seamus Bradley, C O'Boyle, A McLaughlin, E Brown, Paddy Bradley.
Most Read Stories