Cunningham, Ger
January 01, 2001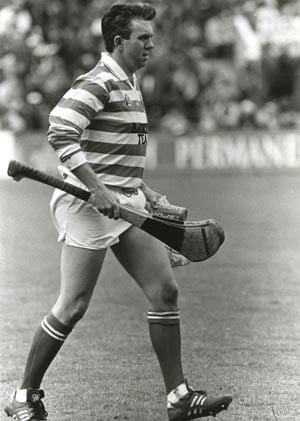 Cork's Ger Cunningham - one of hurling's great goalies.
Taken from Hogan Stand magazine, January 1999
One of hurling's true greats, Cork's Ger Cunningham, brought the curtain down on a long and illustrious career recently. Hogan Stand spoke to the legendary goalkeeper who has assured himself of a special place in the memories of all hurling fans. When the hurling experts sit down to pick the team of the millennium, due to be announced in July of next year, they will discover that competition for the position of goalkeeper is particularly keen. Among the leading contenders are likely to be Tipp's Tony Reddan, the Kilkenny pair of Ollie Walsh and Noel Skehan and Wexford's Art Foley. And then, of course, there is Ger Cunningham, Cork's big hope for the number one spot. Prior to announcing his retirement from the inter-county scene on Friday, January 15 last, Cunningham had donned the famed red and white hooped jersey for almost 20 years, during which he made an amazing 50 consecutive championship appearances while also playing 111 league games. He contributed handsomely to Cork's many triumphs of the 1980s and early 1990s and didn't flinch when the success dried up. Now, at the age of 37, Cunningham has decided to opt out. He leaves Cork hurling in a healthy state, much the same way as he found it in when he first joined the panel all those years ago. "It's always nice to bow out at a time when things are looking up," the legendary custodian says. "The lean years would seem to be over and it shouldn't too long before Cork start winning major titles again. I've had many great years with Cork and the time has come to give some of the younger goalkeepers a chance. They certainly deserve it at this stage," he adds. A goalkeeper whose many outstanding characteristics included reliability, bravery, agility and strength, Cunningham's retirement severs the last remaining link with Cork's All-Ireland winning side of 1990. He reveals that he had been contemplating retirement for some time and had decided at the outset of 1998 that it would be his final season. "It was something that had been on mind for a few years before I finally made a conscious decision to do something about it at about this time last year," the St. Finbarr's star explains. "1998 was always going to be my last year and nothing in the world was going to change that." Watching his former team-mates in action from the stand is something Cunningham is bound to find strange over the coming months. As much as he will miss the white heat of a championship battle, he is adamant that he has made the right decision. "I don't think the decision will really hit me until the championship gets underway. In saying that, I've given as much to Cork as I possibly could and the time has come for me to start devoting more time to my family and other things in life." A Sales Manager with Bord Gais in Cork, Ger Cunningham can proudly reflect on a hurling career which would do justice to a classic tale from Roy of the Rovers. A past pupil of Sullivan's Quay National School where Tipperary man Brother McLoughney was one of his greatest influences, Ger was equally adept at both hurling and football in those formative years. He represented his county in both codes at minor and under 21 level, garnering All-Ireland minor hurling medals in 1978 and '79, an All-Ireland under 21 football medal in '81 and an All-Ireland under 21 hurling memento the following year. Cunningham made his senior hurling debut in May of 1980, lining out against Kilkenny in a challenge match. He made his championship debut the following season and remained an ever-present until Cork's defeat to Clare in last year's Munster Championship semi-final. Though he formed part of a highly promising Cork team (youngsters such as Tony O'Sullivan, Tomás Mulcahy, Jim Cashman and Kevin Hennessy were also emerging on the scene), Cunningham had to bide to his time before he finally got his hands on a precious All-Ireland senior medal in 1984. Two defeats to Kilkenny in the All-Ireland finals of '82 and '83 had raised questions about Cork's capabilities, questions they duly answered in style courtesy of an emphatic victory over Offaly in the Centenary year decider at Thurles. The Rebels retained the Munster Championship in 1985 under Ger's captaincy but a shock defeat to Galway in a rain-washed All-Ireland semi-final ruled out the possibility of back-to-back All-Ireland successes. The following year, the reds exacted revenge on the Tribesmen to regain the Liam McCarthy. Cunningham had double reason to celebrate when, later that same season, he was named Texaco Hurler of the Year. The ever-reliable netminder picked up his third and final All-Ireland medal in 1990 when, once again, Galway were Cork's victims. The final was effectively decided on an incident which occurred midway through the second half when Cunningham blocked a point-blank shot from Martin Naughton with his nose. "I remember the moment well," he remarks. "Shortly after I made that block, we went back down the field and Tomás Mulcahy goaled. We went on to win and to cap off a great year, the Cork footballers added the Sam Maguire a couple of weeks later. Looking back on it now, it's unbelievable to think that we won the All-Ireland double." Cunningham's list of achievements also includes three National League successes (the most recent was achieved last season), six county championships with St. Finbarr's and four Allstar awards. On top of all of that, he won seven Poc Fada competitions in-a-row in the Cooley Mountains between 1984 and 1990. With so many highlights to look back on, it's not surprising that he finds it difficult to single out the most memorable. "Having played in so many games, it would be impossible for me to select an outstanding highlight. At county level, the games against Galway and Tipp tend to stand out. We had some great battles with both teams and those are memories which I will always treasure. "I was also very lucky at club level. I won six senior championships with the 'Barrs and was captain in 1988. They were all great occasions." If Cunningham had his golden moments, he also had his fair share of disappointments. There was that famous incident against Waterford in 1989 when he shipped a heavy knock to the head and spent the remainder of the game in a daze, conceding three goals. He woke up to find himself in Cashel hospital with a sore head and thoughts of quitting the game. Cunningham soldiered on, however, and was relieved he did so when he mounted the steps of the Hogan Stand in Croke Park the following year. Inevitably, those thoughts returned when Cork went into decline after their All-Ireland defeat to Kilkenny in 1992. Despite being not accustomed to failure, Cunningham stuck to his guns and he now takes great delight from the fact that Cork are on the way back. "It's great to see the buzz return to Cork hurling," he says. "It had been missing there for a few years and, at times, I was tempted to pack it in. That said, I'm glad that I stuck it out. Jimmy Barry has a very strong squad in place now and I honestly feel that I couldn't have picked a better time to retire." A custodian who regards Joe McKenna, Christy Heffernan, Nicky English, DJ Carey and Pat Fox as his most feared opponents, Cunningham is fulsome in his praise of a number of individuals who assisted him throughout his career. "People like my father Jim, mother Mary (a sister of Pa and Mossy Finn of St. Finbarr's fame), brother Brian, sisters Ann and Valerie, Brother McLoughney, Billy Morgan (a schoolteacher of Ger's at Colaiste Iognaid Ris) and all the underage people at St. Finbarr's were of great help to me when I was starting out. "In more recent years, great hurling men like Canon Michael O'Brien, Justin McCarthy, Johnny Clifford, Con Roche, Gerald McCarthy, Charlie McCarthy, Dr. Con Muprhy, Jimmy Barry and many others were very supportive as were my employers Bord Gais. I'll always be appreciative of that fact." And so, the glorious inter-county career of Ger Cunningham has drawn to a close. What does the future hold for the brilliant cúlbaire? "As far as the hurling side of things is concerned, I'm looking forward to continuing playing with the 'Barrs. It'll certainly make a change from playing for Cork when there is always an awful lot of responsiblity placed on your shoulders. "I'm also really looking forward to spending more time with my wife Deirdre and my 20-month-old daughter Amy. They will be taking first priority from now on," he concludes.
Most Read Stories