IFC: Drumlane ease by Redhills
August 14, 2015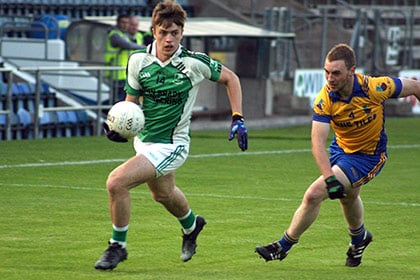 Drumlane's Ryan Connolly gets away from Martin Brady (Redhills) during the Cavan IFC game at Breffni Park.
Drumlane 0-15
Redhills 0-6
Drumlane ended Redhills' intermediate championship campaign tonight with a comfortable nine-point win at Kingspan Breffni Park.
Frank Brady's team could afford to kick 15 wides and miss four clear-cut goal chances and still pull up winning in this contest, with some early second-half scores practically putting them out of sight.
The winners had been full value for their four-point lead at half-time, with ace attacker Ryan Connolly notching 0-4 and hitting the upright twice in the space of 10 minutes to have them in total control.
Redhills, on the other hand, were both depleted and lethargic, with only two scores during the opening half-hour through Paddy Gumley (free), who was arguably his side's best performer, and youngster Darragh Duggan.
Scores from JP Kelly (2), Donal O'Reilly and Dane O'Dowd at the other end were more than enough to outweigh those, as the Milltown men went in with a 0-6 to 0-2 at the break.
The margin could have been much worse for Redhills, with their opponents tallying nine wides and missing the chance of the green flag on three separate occasions. The opening stages of the second-half still didn't bode well for the border men though, with Gary Tubman, Kelly, O'Dowd and Glenn Fitzpatrick bumping Drumlane's lead up to seven.
Turloc Mooney, who was superbly marshalled by Sons of O'Connell number 3 John O'Dowd throughout the hour, knocked over a pair of frees to stem the tide a bit.
However, any notion of a comeback from Brian Reilly's charges was far-fetched as the victors continually pierced their rear guard and eventually found their range again through Dane O'Dowd, Kelly, sub Philip King and speedster Connolly, which was more than enough for them pull up winning towards the close.
Most Read Stories