Armagh ladies rule out legal action after LGFA blunder
April 18, 2016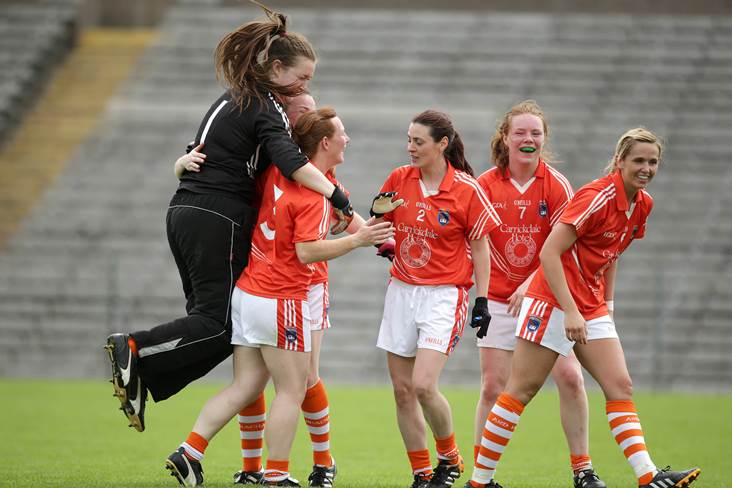 The Armagh ladies footballers celebrate their 2015 All-Ireland SFC quarter-final win over Donegal.
©INPHO/Morgan Treacy.
The Armagh ladies footballers have expressed their fury with the LGFA after they were led to believe they had qualified for the National League Division 1 semi-final.
The Ladies Association had initially confirmed the semi-final pairings as Armagh v Mayo and Dublin v Cork after the Orchard County's 4-7 to 2-16 defeat to Cork in their rearranged game in Abbotstown yesterday. However, they later retracted that after re-examining the league rules to confirm that Kerry, and not Armagh, had secured the last semi-final place.
The LGFA issued an apology to Armagh via their twitter account, but it was no comfort to the Ulster county who slammed the "total incompetence" of the Association in a statement released late last night. They have also ruled out taking legal action against the LGFA.
The statement reads: "We have decided as a team not to pursue the injustice and total disregard today regarding our treatment by the total incompetence of the LGFA in their decision of initially and officially informing our team we had qualified for a Div 1 league semi-final for the first time in the history of Armagh ladies football to be then told via phone call that we had not qualified.
"Our team have been treated very poorly over the past two weekends by a so-called official Association. We would like to thank the Armagh ladies County Board, in particular our Chairman Owen Reel who had offered to fight a legal case on our behalf.
"We feel as a team involved in a sport that we see other Associations and players fighting for equality and recognition that what happened today puts our sport in jeopardy as we constantly strive to improve support and finances to build the sport we are involved in.
"We will, however, do what we can in our power to see that this does not happen any other county in the future by fighting for change in the rules and regulations.
"We wish the remaining four counties in our division Cork, Mayo, Dublin and Kerry all the best in their league semi-finals "
Most Read Stories