Flanagan concerned about widening gulf in class
June 02, 2013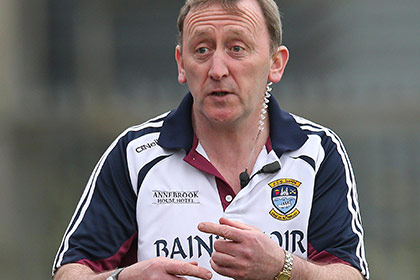 Pat Flanagan. INPHO
Pat Flanagan has called for a review of the All-Ireland SFC structures after his Westmeath side shipped a 16-point defeat to Dublin last night.
The result was the latest in a series of one-sided games already witnessed in this year's championship, and Flanagan believes the gap between the strong and weak will only get wider if the current format remains in place.
"I'm really getting worried about the gulf that's starting to develop," said Flanagan, whose cause wasn't helped by the absence of talisman Dessie Dolan with a hamstring injury.
"If we don't do something about it in the near future, we're going to struggle to have any sort of competition whatsoever.
"I think the GAA need to seriously look at how it's progressing. There's an awful lot of individuals putting in a serious amount of time. They need something different than coming up here as no-hopers.
"We don't have the financial resources in Westmeath or the small counties. We need to seriously have a look at it. If we don't Dublin, Kerry and all the rest are just going to sail ahead and the rest are just going to get weaker."
"What I'd do is have four groups of eight in provincials. Split them up into two groups of four. The two top teams of those groups would go into your Leinster semi-finals and finals. The other four teams would play off provincial semi-finals and finals as well. I'd develop a second meaningful championship."
The Offaly man conceded that it will be difficult to lift his players for the All-Ireland qualifiers after last night's drubbing.
"We were just blown away by the sheer power, speed and strength of Dublin. It's totally an eye opener for us. We go into qualifiers and let's be totally honest, the pressure is going to be on players to go back to clubs, the pressure is going to be on players to go to America."
Most Read Stories