Death of Meath legend Paddy Meegan.
November 14, 2012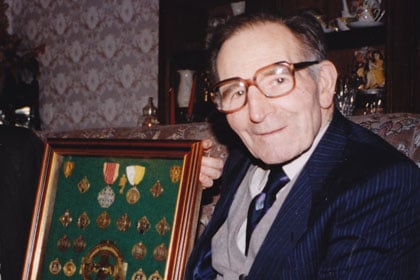 The late Paddy Meegan proudly shows off part of his large medal collection.
The death has taken place of Meath legend Paddy Meegan
The Syddan clubman, who was 90 years of age, passed onto greener pastures this Wednesday morning November 14th.
Multi talented Paddy won every honour the game of his time had to offer. He made his Meath senior debut in 1942 and over the course of the next 12 years tormented corner and wing backs up and down the country.
He was one of the stars as Meath made their historic breakthrough in 1949, neighbours Cavan were beaten. Paddy was back 5 years later as favourites Kerry fell to the Meath sword and the jingling feet and elusiveness of Meegan who shot over four beauties from play.
Paddy Meegan was also a leader. He captained Meath to a NFL title in 1951, a final that was won in New York over the home selection. He was to the fore when Meath captured the same title in 1945. Likewise he led Leinster to Railway Cup success and was the proud holder of four such awards.
He was a regular on the Irish team which took on the Combined Universities and garnered four Meath SFC medals with his beloved Syddan, 1949,51,52 and 56.
A product of St. Finians College Mullingar, Paddy Meegan was a man of many talents. His book From the Life Around Me was much sought after while he had an uncanny ability to write and recite poetry, many of these recitations at the gravesides of old GAA comrades.
A farmer by profession, Paddy was also on the Meath team which unsuccessfully contested the All Ireland finals, against Mayo in 1951 and Cavan twice the following year. Ar dheis De go raibh a anam.
*******
In 2002 we carried a feature on Paddy in the Meath Yearbook
Syddan's Grand Master
31 December 2002
Paddy Meegan had a long and distinguished career with club and county. Here he recalls some of the highs and lows.
1952 is a year Paddy Meegan recalls with mixed emotions. At club level Syddan retained the Meath SFC, but he captained the Meath side which lost to Cavan in the All-Ireland SFC Final replay. It rained so heavily on the day of drawn game that the minor final between Galway and Cavan was postponed and played as a curtain raiser to the replay.
Meath, who according to Paddy went into the game as strong favourites, were leading by 1-7 to 2-3 before the drawn game ended in controversy. A Cavan attack seemed to have petered out when the ball appeared to go wide in the corner near the Nally Stand.
"It is still debated to this day. Micheal O'Brien, who was marking Edwin Carolan, stopped the pursuit, as he was sure the ball was going wide. Some say Edwin was returning the ball for the kickout. He kicked the ball from the corner flag and it struck the far post, the one closer to the Cusack Stand and the ball dropped on top of the net" according to Paddy.
"The second day was a wet day too and I had a bad day with frees. Mick Higgins had a great day with frees. That was the winning of it. In those days a player had to take a free from wherever the referee placed the ball. Now a player can place the ball himself" he recalls.
Cavan's fifth and most recent All-Ireland success was remembered at a Golden Jubilee function at the Hotel Kilmore in Cavan where survivors from both sides were honoured.
"It was a great function. The old Sam Maguire was let out for the first time since it was stabled in the museum in Croke Park. The survivors of both teams were present."
Paddy, who has penned many poems on various topics over the years, graced the occasion with a tribute to his old rivals, which he delivered on the night.
The Charms of Breffni
A poem for a gentle night like this for ageing people with thoughts turned back and golden memories hitched on vividly to praise a team bringing home the highest honour to its proud county and blending it with beauty already there.
Cavan this was one more day in your glory,
The tip-top success of gaeldom, the highlight of '52,
Adding grandeur to even lovely Virginia,
Giving your heart to your county charmed in its Breffni Blue.
It was in Mullagh, a night of laughter and cheering,
And the craic that was mighty flowed on,
But soft tears in the eyes of sweet colleens glistening,
As they danced round the bonfires of home.
It was a whole night of singing in Arva and Kingscourt,
Delight crowding the streets of Bailieboro,
Rapture parading Cootehilll, Shercock, Ballyjamesduff and Mountnugent,
Tonight in Cavan town here faithfully remembering still.
The cup and the wine of victory,
At the end of an All-Ireland Day,
With blue flags adding bliss to rare beauty
From Ballyconnell, the Erne and Belturbet to Muff and Loughinleigh.
For you were bringing home fame to your birthplace,
Which was a pride to each sportsman too,
Building the dreams of children and youngsters
Into love for their Breffni Blue.
And stirring over the chat about old football stalwarts
Long gone from the scene and the game
Who had travelled the hard road before you
With the blood of the Gael in their veins.
We are here with you and we are glad this evening,
Offering you the toast of friends,
To those golden years you have stored in your memories
To a sweetness that never will end.
Cavan, this is one more day in your glory,
The tip-top success of gaeldom, the highlight of '52.
Adding grandeur even to lovely Virginia
Giving heart to your county charmed in its Breffni Blue.
In contrast to the disappointment at inter-county level, it was a very good year for Paddy as his club Syddan claimed their third SFC in four years to go with the titles of 1949 and 1951. In fact the latter final wasn't played until June 1952, when Syddan scored a 3-5 to 0-9 victory over great rivals Skyrne.
Paddy finds it hard to compare victories at club and county level. "Your wins are always related to your support. You are dealing with two different groups. The club unit is very local. It runs deeper and there is much more sentiment involved. To win is a big thing especially the first one, because you are filling a big vacancy."
Two big vacancies in Paddy's C.V. were filled in 1949 as Meath claimed their first All-Ireland title and Syddan won their first SFC by beating local rivals, North Meath, a combination team fielding the cream of junior sides in the area.
Paddy's first honour was a Leinster Colleges medal picked up with St. Finian's Mullingar in 1939, when he was a sub on the side that featured the great Simon Deignan of Cavan. Prior to attending the famed footballing nursery he spent a year at the Marist College in Dundalk along with another Cavan rival, Mick Higgins.
His first foray in adult championship football with his club turned out to be a tragic occasion. "I played in the game where Tom Keegan received his fatal injuries from an accidental clash. It was an awful shock." The match was an IFC game between Syddan and Castletown at Rathkenny on August 25, 1940. Syddan won the game by 1-7 to 1-3, but the result was overshadowed by the death of Tom Keegan from his injuries two days later at the Richmond Hospital in Dublin.
The following year they went on to win the Intermediate championship as the teenage Meegan score both goals in the 2-7 to 1-4 victory over Flathouse in Navan.
Paddy played the first of 50 consecutive championship games for Meath in the 3-5 to 1-10 defeat by Dublin at Drogheda in 1942. He was just 20 years old. In 1945 he won the first of four Railway Cup medals and a year later the first of two NFL medals. These were followed in 1947 by the first of five Leinster SFC honours. In 1952 and 1953 he played in the Ireland team in a representative match against the Combined Universities.
"There was a feeling there that we were about to make to make the big breakthrough. The 1947 semi-final against Kerry was our first venture in the big time. The prospect of playing in New York was a big attraction, but we weren't good enough on the day."
Meath's meeting with the reigning champions Mayo in the 1951 All-Ireland final also had controversial overtones. The Royal County had already beaten the Connacht side in the National Football League 'Home' final and were due to travel to New York for the final proper after the All-Ireland final. But first there was the little matter of the smallpox vaccination.
"We were supposed to have the vaccination earlier in the year, but there was never a good time to have it as there was no lull in for the whole year. At one stage we thought we might be excused from having the vaccination. In the end the vaccination were given shortly before the final. I was excused because I had already received it. Some players reacted badly to it and weren't really over it by the time the final came round."
At least they had the consolation of relieving a strong New York side of their NFL title by 1-10 to 0-10. Seamus Heery led Meath in the All-Ireland final, but Paddy who preceded him as captain reprised his role for the League final.
"We spent a full-month away" he recalls "Galway, who were in the National Hurling League final also toured with us. We were toasted and feasted during our time there. We flew out but we came home on the 'New Amsterdam'. We arrived back in Cobh and travelled to Dublin where there was another reception for us.
There was further disappointment for Paddy when Syddan were unseated as kingpins of Meath by an up-and-coming Navan O'Mahony's on a 1-9 to 1-8 scoreline in the semi-final of the Meath SFC in 1953.
"Losing the 1953 semi-final to Navan O'Mahony's was a big disappointment as it was the first year the Keegan Cup was played for and we thought we would never get a chance to win it" he admits.
Thankfully, his chance did arrive. Paddy retired after the 1954 All-Ireland final with his second winners medal secure, having married just two weeks prior to the final. On the eve of the 1956 Meath SFC final he was persuaded to deputise for Seamus Duff, who was laid-up with 'flu. It proved to be a fairytale end to his playing career as he scored 1-3 in Syddan's 3-4 to 2-6 win over Skyrne. Paddy's late brother Eamon shared in those four triumphs with him.
Paddy intended retiring in 1953 but travelled to Croke Park for Meath's meeting with Wicklow in the first round of the Leinster Championship the following summer.
"Peter McDermott and myself went to the first round game against Wicklow as subs. The match is still remembered for the amount of injury-time played. We didn't think at that stage that we would go on and win the All-Ireland."
Peter and Paddy were introduced into a tough game as second-half subs and the Syddan man went of to score the winning point deep into stoppage time as Meath emerged winners on a 1-9 to 1-8 scoreline.
"The 1954 final was one we weren't expected to win. As a team we were getting on though we had some young talented players like Michael Grace and Kevin Lenehan. It was the last year of collective training. We were well looked after in Gibbstown and there was great camaraderie among the players. Fr. Tully was the trainer, but the training was quite mild. In those days we never got together as a group until we got to an All-Ireland final", Paddy remembers.
It was the era of great rivalry between Meath and Louth and living just two miles from the county boundary, Paddy was exposed to it in a big way. "It led to great banter. We met seven times in the championship between 1949 and 1951 and overall Meath had a one-point aggregate advantage over those seven games."
Meath advanced after two replays in '49. The following year Louth got their revenge at the second attempt in the Leinster final, with The Royal County gaining the upper hand after a replay in 1951.
"A lot of credit for our success at county level must go to the late Fr. Tully. He was a mild mannered man who never offended anyone and was popular with the players" according to Paddy.
So, what does Paddy think of the game today?
"When Gaelic Football is played well it is still a wonderful game to watch, but you need to be very fit to play it. There is a tendency to overdo the handpassing. You often see games where there will be 10 passes and the ball won't get twenty yards."
"It's hard to explain why Syddan haven't won a Meath SFC since 1956. Sometimes a group of fellas come together and get a good run of success" he adds reflecting on the decline in his club's fortunes in recent years. Of all the players he encountered in his playing days one man stands out. "John Joe O'Reilly combined ability with great sportsmanship, he wouldn't hurt a fly."
Most Read Stories